Fall Leaf Collection
We have completed our zone by zone pickup of leaves for 2022. Residents may request removal of piles by calling City Services at (260) 356-4720 until December 7. After that date, leaves will need to be bagged and pickup scheduled through the Brown Bag Tuesday program.
---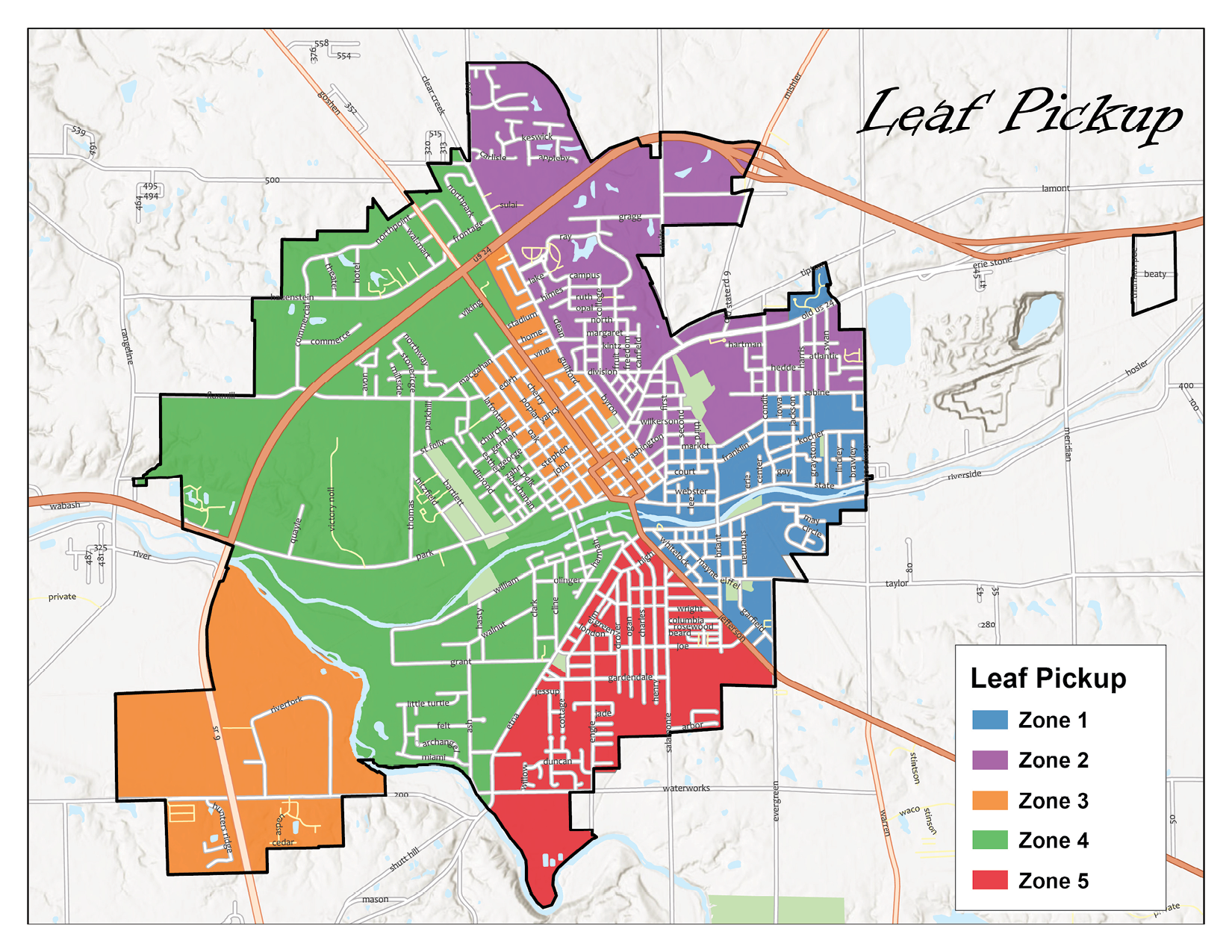 Each autumn, Huntington residents may rake leaves to the curb in front of their home for collection by the Street Department. Leaf pickup typically begins in early fall and runs through the end of the year as weather allows.

We will post the dates that leaf collection will begin and end for the season on this page as well as the City of Huntington Facebook page. Updates may also be obtained by calling City Services at (260) 356-4720.

City crews will collect all leaves in one zone before beginning in the next. Leaf collection in a particular zone can sometimes take several days before we can move into the next zone. It just depends on the volume of leaves that there are to be picked up. Thank you in advance for your patience!
The leaf collection zones' boundaries correspond with your trash zone, but this does not guarantee a specific pickup day. Leaf pickup can occur on any day of the week in your neighborhood. It is important for residents to have leaves ready for pickup by 7 a.m. Monday mornings while leaf collection is ongoing.

Residents may also opt to bag leaves and schedule pickup at their address. For more information on the city's Brown Bag Program, please call (260) 356-4720.

Preparing Leaves for Pick-up:
Leaves will only be collected if they are raked to the curb in front of the residence or placed in brown bags and set at the curb for collection.

Other yard waste should not be mixed with the leaves

If there is a vehicle/object blocking the leaves or an obstruction restricting access to a street, we may not be able to pick your leaves up until the next round.
Safety and Maintenance:
Parents should remind children not to play in leaf piles near the street.

Please make sure that storm drains are clear of leaves and other debris.
Contact Us
Phone: (260) 356-4720

Fax: (260) 358-2324

Hours:

7 a.m. to 3 p.m.
Monday through Friday