Posted Thursday, October 27, 2022.
HUNTINGTON – A funding plan to bring the City of Huntington into compliance with federal and state water pollution control mandates before a 2026 deadline received final approval during a special meeting of the Huntington City Council on Thursday morning.
Construction on Projects 7 through 9 in the city's Long-Term Control Plan (LTCP) is expected to begin in 2023. The wide scope of the work required in these three projects, plus increased materials, construction and labor costs in today's market, pushed the total cost well above initial projections to approximately $51.1 million.
The city's public utility, whose budget is supported by ratepayers apart from tax-funded government operations, will fund these projects through State Revolving Fund low-interest bonds.
Such bonds are fulfilled through local utility rates. The city's financial consultant on these projects has calculated the wastewater rate impact on residential, business, commercial and industrial utility customers to be about 23.4 percent starting with bills due in 2023. That is equivalent to an increase of about $14 per month for the average household using 4,000 gallons (about 535 cubic feet) of water – a larger than expected increase following small, phased in adjustments from 2017 to 2021.
City staff worked diligently with the winning contractor to cut about $3.8 million from the initial low bid, among other cost-saving steps to reduce the rate impact.
"The city successfully applied for a $2 million grant and below-market interest rates through the State of Indiana. The city also responsibly applied cash on hand to lessen the financial impact on rates," Mayor Richard Strick said. "Despite these best efforts, completing the final three phases in this plan cannot be accomplished without a wastewater rate increase."
Following a public hearing, discussion and first reading of Ordinance 29-C-22 on Tuesday morning, a quorum of City Council members voted to advance consideration of a wastewater rate adjustment to a level that would satisfy the city's bond obligations. Council then called Thursday's special meeting for a second reading and final vote in order to meet bond acquisition timelines.
Thursday's final vote was 5-0. Two Council members were unable to attend.
About the LTCP
The City of Huntington and its engineering partners developed the nine-phase LTCP in 2003 in response to federal and state mandates under the Environmental Protection Agency's Clean Water Act, the Indiana Department of Environmental Management's (IDEM) Sewer Overflow Program and an IDEM Agreed Order. Physical construction related to Projects 1 through 6 was completed between 2012 and 2020. Construction timelines are still being determined for Projects 7 through 9, but they remain on track for completion before the 2026 deadline. Beyond that time, the city could face significant penalties if the work were to be left incomplete.
The LTCP's purpose is to eliminate combined sewer overflows, which occur when heavy rainfall or melting snow cause wastewater and stormwater levels to exceed the capacity of the city's combined sewer system.
Combined sewer systems were common when municipal sewer systems were first developed more than a century ago. They combine stormwater with wastewater in a single pipe with the original intent of flushing and cleaning the lines. To prevent sewage backing up into residents' homes when levels exceed capacity, outfall pipes were designed to transport excess untreated sewage and stormwater directly into local rivers and streams. This century-old solution to one problem created another down the line that is now the subject of federal and state pollution control mandates.
According to IDEM and the EPA, more than 100 Indiana cities and towns and more than 770 communities nationwide have combined sewer systems that must be separated.
About Projects 7 through 9
Extensive work related to Projects 7 and 8 will begin at the Water Pollution Control Facility and follow approximately two miles along Hitzfield Street, West State Street, Lafontaine Street, Tipton Street and Division Street to its intersection with Canfield Street in three phases.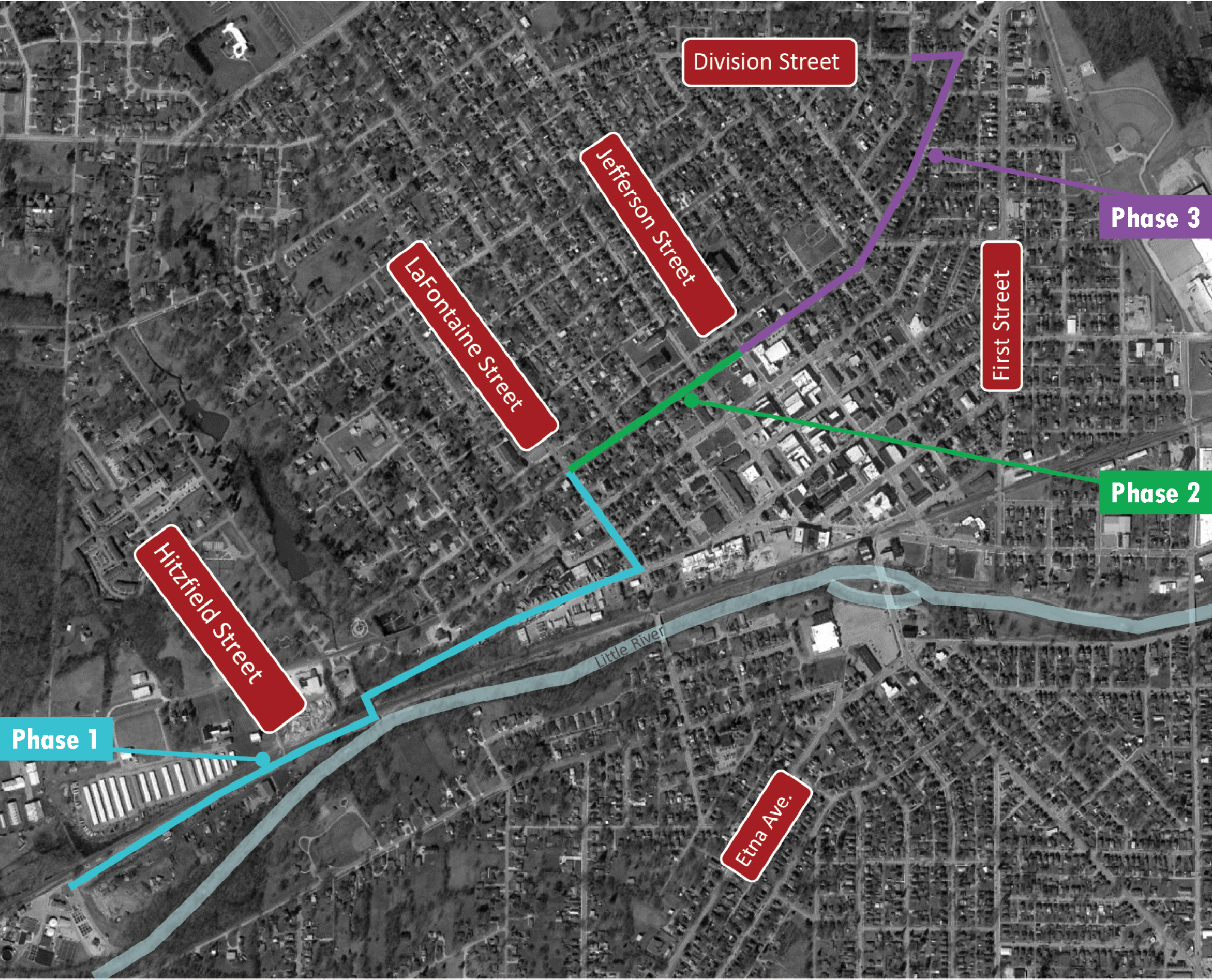 These important and necessary projects will consist of:
Excavating stone and digging deep trenches to install sanitary sewer interceptor pipes up to 72" in diameter at a depth of up to 30 feet.

Complete road and sidewalk reconstruction for impacted sections along the route.

Replacing and upgrading water mains along the route as needed.
For safety, please keep children and pets away from work areas.
Project 9 will consist of the installation of a disinfection system, chemical feed building and monitoring equipment for the disinfection of effluent from the Water Pollution Control Facility's 2.25 million gallon combined sewer overflow tank.
Who to contact
Residents who have questions or concerns are encouraged to contact the Mayor's Office at (260) 356-1400 ext. 2000.