Posted Friday, October 14, 2022.
Important Information for City of Huntington Utilities Customers
This page contains important information regarding a federally mandated pollution control plan that will affect wastewater/sewer rates paid by City of Huntington utilities customers. In addition, this page concludes with information on the transition of residential trash and recycling services to a new provider, GFL Environmental Inc., beginning January 1, 2023.
Notice of Public Hearing
A public hearing was held on Tuesday, October 25, regarding the proposed wastewater rate increase to fund the City's compliance with federal and state mandates for water pollution control. Projects 7 thorough 9 in a nine-phase Long-Term Control Plan designed to keep untreated wastewater from overflowing into areas rivers were reviewed. The public hearing was be conducted during City Council's regularly scheduled meeting that morning in Council Chambers on the third floor of the Huntington City Building.
Long-Term Control Plan (LTCP)
In August, the City of Huntington received bids for the completion of Long-Term Control Plan (LTCP) projects Nos. 7 through 9. These continue a series of projects started in 2012 that serve an important purpose – preventing raw sewage that mixes with stormwater in the city's combined sewer system from spilling into the Little River and Flint Creek.
What is the LTCP?
The LTCP is a series of projects developed by the City of Huntington in coordination with our engineering partners to meet federal and state mandates under the Environmental Protection Agency's Clean Water Act, the Indiana Department of Environmental Management's (IDEM) Sewer Overflow Program and an IDEM Agreed Order by a 2026 deadline.
Projects 1 through 6 were completed between December 2012 and January 2020. Projects 7 through 9 are scheduled to be completed in advance of the deadline. Details of each project can be found at www.huntington.in.us/city/LTCP.
The City's objective in complying with these federal and state mandates is to keep local waterways cleaner and safer by preventing combined sewer overflows. After evaluating the costs and benefits of different options meeting the specifications for each project, the most cost-effective option was selected at each step by this and previous administrations.
What are combined sewer systems and combined sewer overflows?
A combined sewer system conveys untreated sewage and stormwater for treatment at the wastewater treatment plant through the same pipe. Huntington is one of more than 100 Indiana communities and more than 770 U.S. municipalities that has combined sewers, which were common when urban sewage systems were first developed in the late 1800s and early 1900s.
Combined sewer overflows occur when heavy rainfall or melting snow overwhelm a combined sewer system. When water levels in the system exceed capacity, excess stormwater flows with untreated sewage through outfall pipes into local waterways, as illustrated below.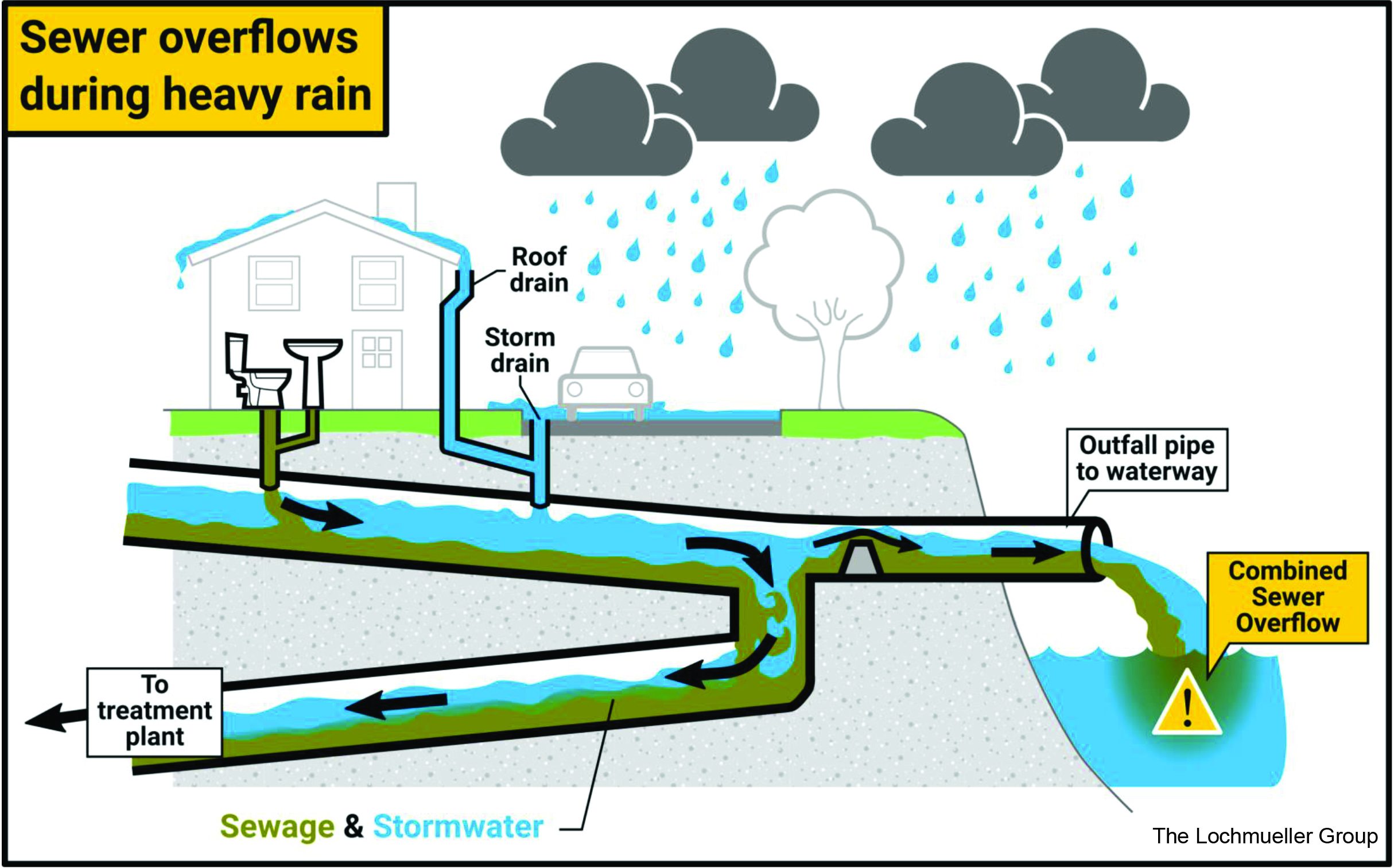 What will be done during Projects 7 through 9?
Projects 7 and 8 (see image below) will begin at the Water Pollution Control Facility and follow approximately two miles along Hitzfield, West State, Lafontaine, Tipton and Division streets, ending at the Division and Canfield intersection.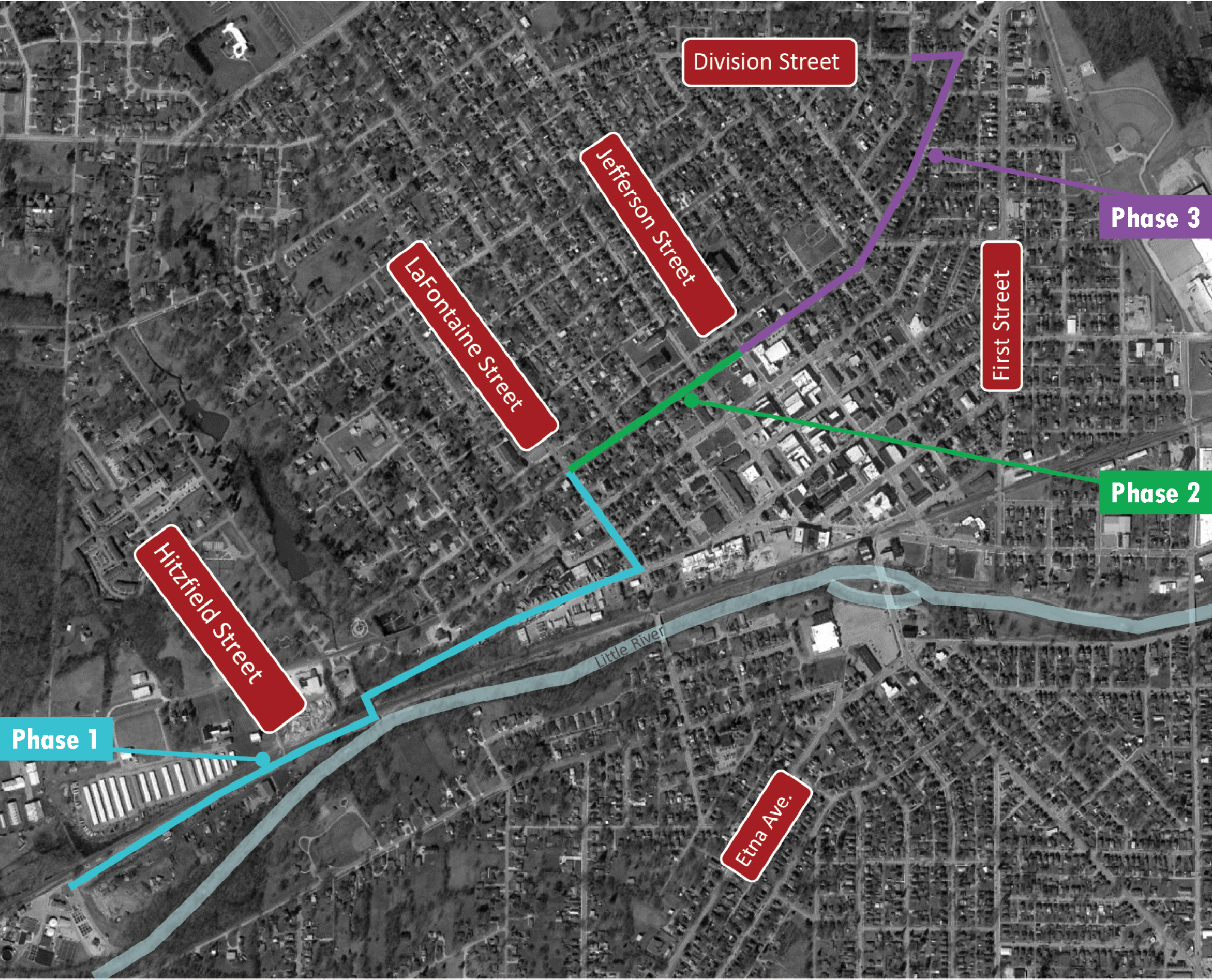 These important and necessary projects will consist of:
Digging deep trenches to install sanitary sewer interceptor pipes up to 72" in diameter at a depth of up to 30 feet. For safety, please keep children and pets away from work areas.

Rebuilding streets and replacing sidewalks along the route.

Replacing and upgrading water mains along the route as needed.
We will update timelines for this work as those dates are confirmed. For a detailed overview of Projects 7 and 8, go to www.huntington.in.us/city/LTCP/7-8-overview.
Project 9 will consist of the installation of a disinfection system, chemical feed building and monitoring equipment for the disinfection of effluent from the Water Pollution Control Facility's 2.25 million gallon combined sewer overflow tank.
How are the final LTCP projects being funded, and how will it affect my household or business?
Following federal and state rules, the City intends to utilize a combination of State Revolving Fund (SRF) grants and low-interest bonds to fund these projects. These bonds are fulfilled through local utility rates.
Despite best efforts to drive down costs, the level of financing needed to complete these mandatory projects will roughly translate to a $14 per month rise in wastewater/sewer charges starting with bills due in 2023 for an average household using 4,000 gallons (about 535 cubic feet) of water per month, a rate adjustment of about 23.4 percent.
The same 23.4 percent adjustment also will apply to business, commercial and industrial customers.
What has the City done to drive down costs?
The wide scope of the work required and increasing expenses in today's market place pushed total project costs to $51.1 million, of which $44.4 million is for physical construction.
City staff has worked diligently to drive down these costs and lessen this impact on our community. After receiving bids, we engaged our engineering and construction partners to reduce overall expenses by approximately $3.5 million, or nearly 7 percent of the total project cost. We accomplished this by working closely with our construction partners to identify workflow efficiencies in the original plans while also seeking out materials and suppliers at more favorable price points, without compromising quality.
In addition, a $2 million SRF grant the City sought and received will push total cost reductions to more than 10.7 percent below the initial bids.
The City of Huntington is committed to completing this important work in a timely, responsible and cost-efficient manner. Thank you for your understanding regarding these necessary and required projects, and we encourage you to contact the Mayor's Office at (260) 356-1400 ext. 2000 with any questions or concerns.

Trash & Recycling Services
Unrelated to the LTCP, the City of Huntington has awarded residential trash and recycling services to GFL Environmental Inc. effective January 1, 2023. Contracts with Waste Management and Republic Services for these services expire at the end of 2022.
Following a competitive bid process to secure the best deal for Huntington residents, the Huntington Board of Public Works & Safety authorized the City to enter into an agreement with GFL Environmental.
Residents can expect a slight reduction in monthly recycling fees in 2023 and a small rise in monthly trash fees. The City also will eliminate a $1.25/month processing fee that was previously collected.
Overall, residents should expect a minimal increase of about 25 cents per month in combined trash and recycling charges in 2023, with a 4 percent annual adjustment through the contract's expiration after 2027. Households with standard trash and recycling services (i.e. one bin for each) paid a combined amount of about $15 per month for these services in 2022.
Stay up to date on these trash and recycling service provider changes at www.huntington.in.us/city, and feel free to subscribe to the #WeServeHuntington Digital Newsletter to receive regular updates throughout the transition to GFL Environmental.