Posted August 10, 2022.
Ed Farris, Extension Educator, Agriculture & Natural Resources
Purdue Extension – Huntington County Office
1340 South Jefferson St.
Huntington IN 46750
A new invasive pest was found in the city of Huntington in late July. Spotted lanternfly (SLF) is a federally regulated invasive species. It is a serious new pest that harms plants by slowing their growth and reducing fruit production, especially in vineyards and orchards. This is only the second find of the pest in Indiana (a population was found along the Ohio River in Switzerland Co. last year).
After a Huntington resident reported "mutant ladybugs" feeding on trees of heaven on their property to a Huntington Neighbors Helping Neighbors" Facebook page, the message was forwarded to DNR's Division of Entomology & Plant Pathology (DEPP). A business owner also reported an finding an immature SLF to the DNR hotline. DEPP staff surveyed the site and discovered multiple life stages of the insect present in trees and on structures near the railroad tracks. DEPP and USDA are investigating to determine exactly how large the infestation is and where it could have come from, as well as how to limit the spread and eradicate the population.
SLF may now be found anywhere in Indiana. Knowing where this pest is located can inform regulatory actions taken to slow its spread and reduce the harm it can cause.
Cliff Sadof, professor of entomology and Purdue Extension fellow, said this migration poses a significant agricultural risk to wine grape growers and honeybee and walnut tree producers. While the spotted lanternfly feeds on over 100 different types of plants, Sadof said, the insect can reproduce only when feeding on walnut trees, grape vines or tree of heaven.
Though the full-grown adults have beautiful coloring and patterns, spotted lanternfly eggs resemble a splash of mud, making them easy to overlook on large vehicles traveling from state to state. Homeowners should, therefore, also remain vigilant in keeping populations in check, Sadof said, as the honeydew secretions from the insect are frequently spread across homes and structures and are extremely difficult to remove when dried.
The Indiana Department of Natural Resources asks all residents to search for and report spotted lanternfly sightings. Anyone spotting the insect should photograph it and send the image and location to DEPP@dnr.in.gov, or call 1-866-No-Exotic. You may also stop by the Huntington County Extension office and pick up a publication called "Spotted Lanternfly Checklist for Residents." This publication was adapted from material produced by the Pennsylvania Department of Agriculture. It contains pictures of life stages, potential egg mass locations, and a list to confirm that you have inspected vehicles, recreational gear, and other outdoor materials.
If you have questions, contact Ed Farris, Agriculture and Natural Resource Educator, Purdue Extension – Huntington County Office, 1340 S. Jefferson, Huntington by calling 260-358-4826 or emfarris@purdue.edu.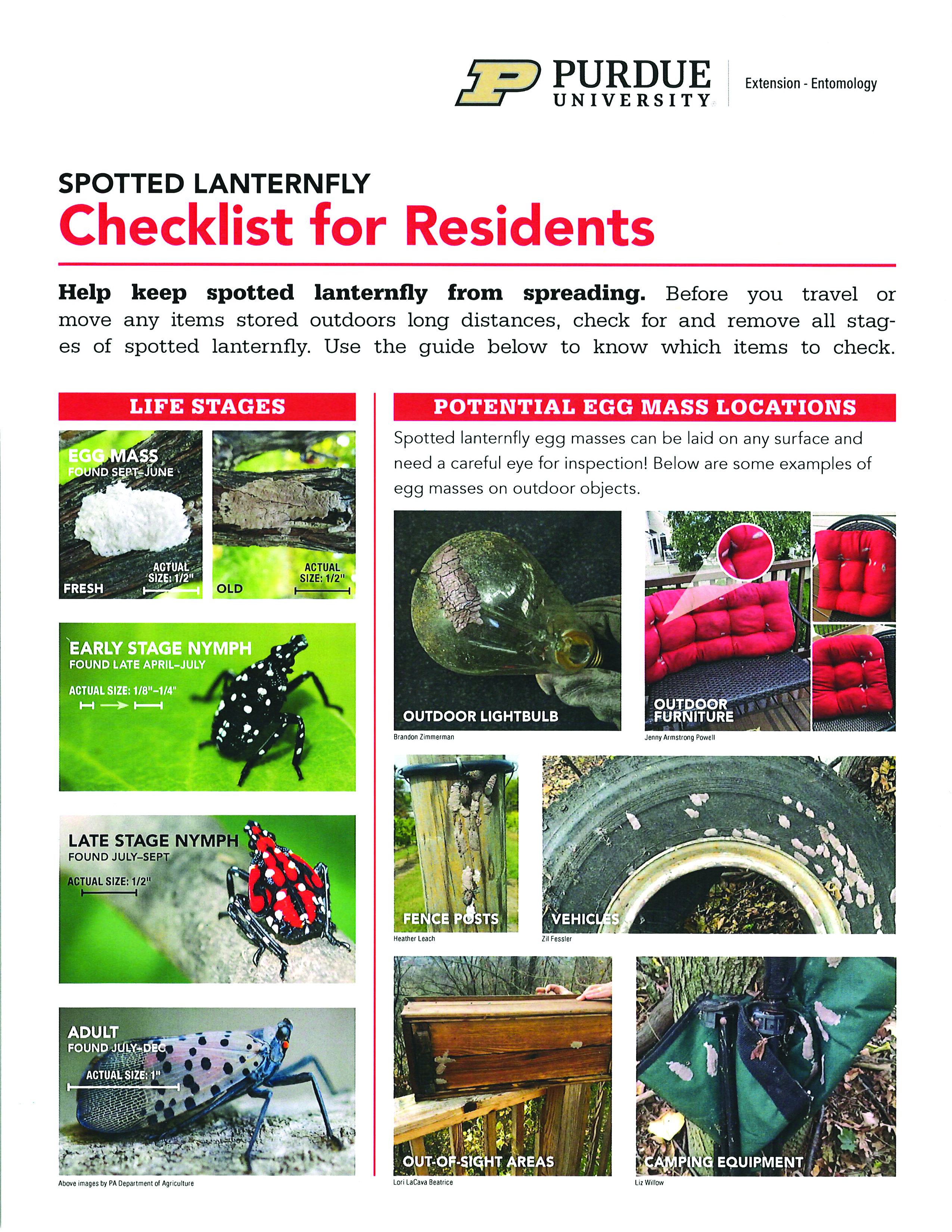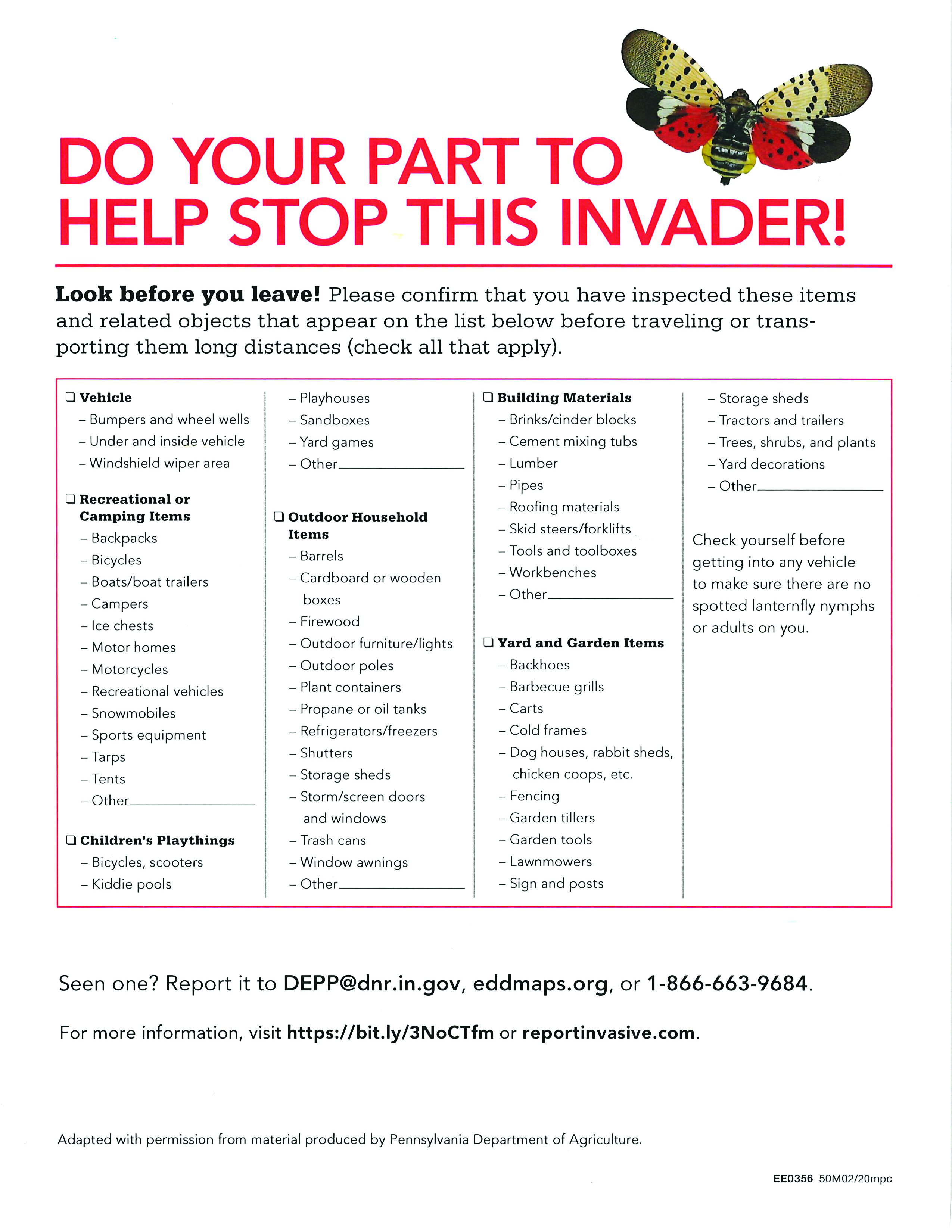 Click to expand images.