Posted Wednesday, May 25, 2022.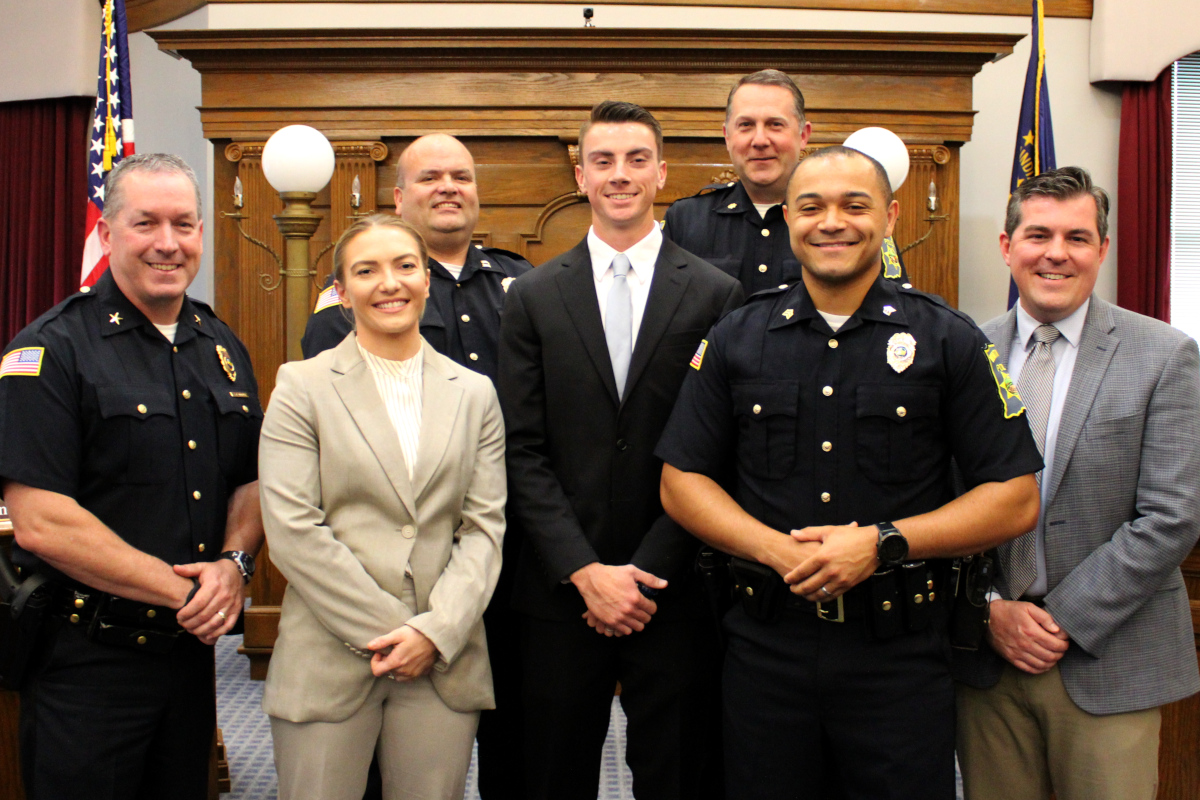 From left to right: Chief Cory Boxell, Patrol Officer Shai Parrett, Administrative Capt. Andy Ellet, Patrol Officer Ian Yaste, Assistant Chief Chris McCutcheon, Sgt. Darius Hillman and Mayor Richard Strick.
HUNTINGTON – The Huntington Police Department welcomed two new officers and promoted a 5-year veteran during a swearing-in ceremony Wednesday at the Huntington City Building.
Patrol officers Shai Parrett and Ian Yaste were both administered the oath of office by City Clerk-Treasurer Christi McElhaney after being introduced by Police Chief Cory Boxell. He described each as highly motivated and said both have shown themselves ready to step up to serve and protect their community with integrity.
"In this day and age, it's very difficult to find people who want to serve in this capacity," Chief Boxell said.
Parrett, a Wabash native, is a lateral transfer from the Lafayette (Ind.) Police Department, where she has served since 2019. She has also worked for the Wabash County Jail and holds a bachelor's degree in public affairs and law. Having already completed the Indiana Law Enforcement Academy, Parrett will next complete a Field Training program.
Yaste, born and raised in Huntington, is pursuing a bachelor's degree in sports management and will complete the Indiana Law Enforcement Academy later this year. He earned an Eagle Scout rank as a youth and played on the men's basketball team at Indiana-Purdue Fort Wayne after graduating from Huntington North. Yaste is an assistant track coach at Huntington North and coaches basketball at Riverview Middle School. He owns two local businesses with his wife, Kaylin.
Darius Hillman received a promotion to sergeant during Wednesday's ceremony. He has been with the Huntington Police Department for five years and recently served as a detective and third shift officer-in-charge. Hillman is a graduate of Huntington University and is about to complete a master's degree in Public Administration in Law & Public Policy from Liberty University.
Hillman and his wife, Kate, are active community members and newly certified foster parents. Hillman serves on the boards for the Local Anti-Drug Coalition and Place of Grace, a residential program for woman leaving incarceration. He is the worship leader for his church and will begin teaching at Huntington University this fall as an adjunct professor of law.
Mayor Richard Strick opened the ceremony by calling for a moment of silence to honor the victims of the recent tragic events in Uvalde, Texas. He reflected on the high standards Huntington holds its officers to and the mutual respect between Huntington's police and a community that backs them strongly.
"The additional power and authority that you receive as a uniformed officer here in the City of Huntington is a matter of public trust and reliant on strong relationships with the general public," Mayor Strick said in addressing HPD officers. "You and your colleagues will daily strengthen that relationship through the integrity of your decisions and your actions. Your impartial service to upholding the law with courtesy and good nature is essential in that trust."