Posted Wednesday, April 21, 2022.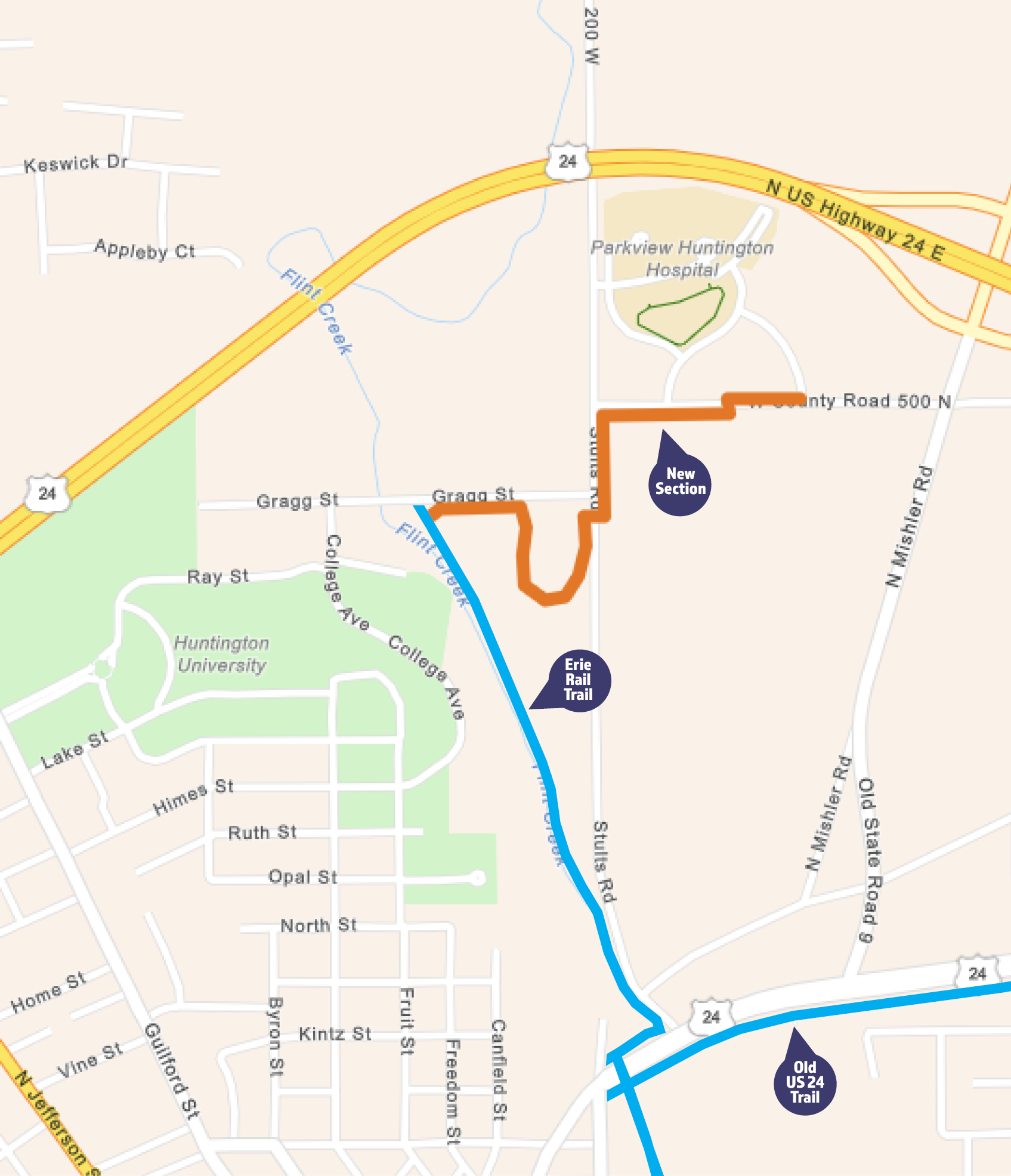 (Click to expand map)
HUNTINGTON – A roughly 0.75-mile extension is in the works to connect the Erie Rail Trail with the campuses of Crestview Middle School, Parkview Hospital and the Huntington YMCA.
The City of Huntington was awarded a $784,300 Next Level Trails matching grant for the project on Wednesday through the Indiana Department of Natural Resources. Next, the city's Department of Public Works & Engineering Services will finish designing the project's details before opening bids next year.
"Trails promote healthy outdoor recreation and give local residents a safe alternative for traveling the city by foot. The trail connection will make it safer for kids who walk or ride their bikes to school at Crestview and anyone trying to get to the YMCA or the hospital campus," Cuttriss said. "Our parks and trail systems add to the quality of life in Huntington and help make this an attractive place for new residents and businesses considering a location here."
The Huntington Area Recreational Trails Association, or HARTA, has partnered with the city to raise funding and design, develop and maintain Huntington's trail system over the past decade. For this current project, HARTA helped the city choose the Erie Rail Trail from among several potential spots for expansion.
The connection to Crestview, Parkview and the YMCA was prioritized for the additional safety it will provide in the heavily trafficked section leading to those community locations. HARTA President Eric Bruce says it will make it safer for students who walk or ride their bikes to Crestview, HU students gaining teaching or health care experience at the school and hospital, and community members visiting the YMCA for a workout.
"We approached the mayor early last year with the idea and he said, 'Hey, that sounds great,'" Bruce said.
Jodi Coblentz, a HARTA board member, also contributed substantially to a detailed, 242-page application for the Next Level Trails grant. As part of the grant preparation process, Coblentz and her fellow HARTA board members coordinated with leaders at the university, school corporation, hospital and YMCA about use of land where the trail connection will be located.
HARTA will support the Erie Rail Trial connection directly with a donation of $30,000. The group also has secured a $10,000 grant for the project through Huntington County Healing Partners and plans to accept individual and business donations to leverage another matching grant opportunity through CreatINg Places. CreatINg Places is facilitated by the Indiana Housing and Community Development Authority in conjunction with Patronicity.com.
Updates on the project will be posted on HARTA's website and social media pages.
Currently, the Erie Rail Trail runs between the intersection of Briant and State streets and Gragg Street, with a trailhead near Huntington University's northeast entrance. The trail connects with downtown Huntington via the Little River Trail and traverses Erie Heritage Park and Yeoman Park on the route from Schenkel Station toward the university.
The connection's proposed route will run east from the trail's current endpoint on Gragg Street and curve around wetlands northeast of the university campus. A pedestrian crossing at Stults Road will provide a direct connection to Crestview Middle School, Parkview Huntington and the YMCA on County Road 500 North.
Huntington has 6.6 miles of trails throughout the city at this time.
In all, Gov. Eric Holcomb and DNR Director Dan Bortner announced a combined $65 million in funding on Wednesday for 38 communities and non-profit organizations to build 77 miles of new trails in Indiana. The Next Level Trails program has contributed $120 million to date for 190 miles throughout Indiana. Ninety-four percent of Indiana residents live within five miles of a trail.
The Next Level Trails program funds up to 80 percent of eligible projects. Monetary contributions, land value and in-kind donations of materials and labor can be used toward a grant recipient's 20 percent match.
The grants awarded Wednesday include 17 regional projects and 21 local projects. The list of awards, project descriptions, and a map are posted at on.IN.gov/NLT-round-3.
"We are excited to expand our partnerships with local governments and non-profits to bring these important connections and amenities to communities across Indiana," Bortner said in a DNR press release.
Quick Links: