Posted Wednesday, February 23, 2022.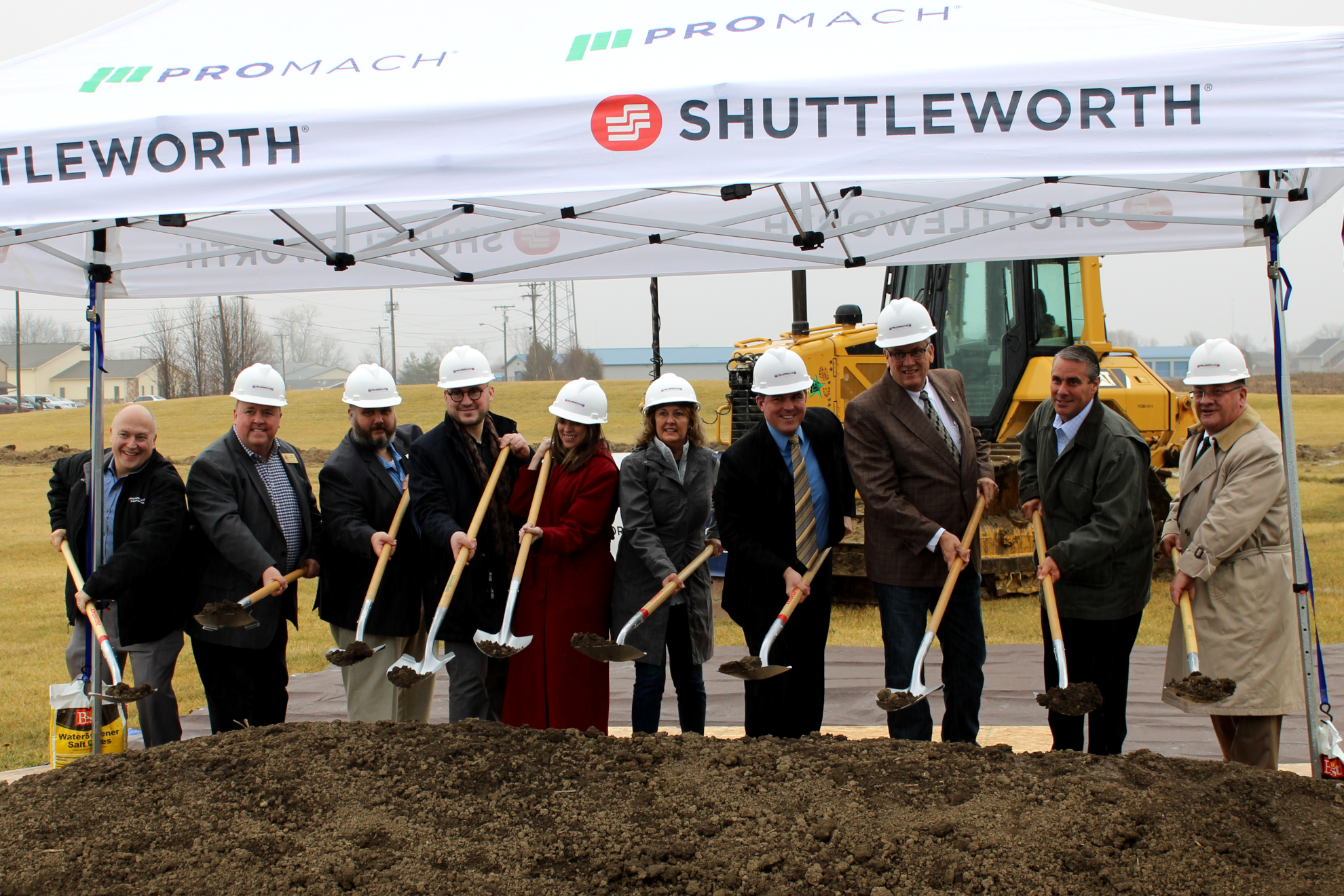 Shown in the photo above from left, are Ken Tinnell, vice president and general manager, Shuttleworth; Chris Crabtree, senior advisor, Congressman Jim Banks' office; Jon Kenworthy, field representative, Senator Mike Braun's office; Stephane Frijia, president and CEO, Northeast Indiana Regional Partnership; Linda Walczak, Indiana Economic Development Corporation; Christi McElhaney, clerk-treasurer, City of Huntington; Mayor Richard Strick; Tom Wall, County Commissioner; Bret Ranc, chief operating officer, Pro Mach; and Mark Wickersham, executive director, Huntington County United Economic Development.
HUNTINGTON – Ahead of its 60th anniversary celebration later this year, Huntington manufacturer Shuttleworth broke ground today on a 55,000-square-foot expansion to its facility at 10 Commercial Road.
Targeted for completion this fall, the $4.67 million project will create 20 new jobs by the end of 2024 to add to the current staff of 85, according to a Shuttleworth media release. Huntington Mayor Richard Strick, Huntington County Commissioner Tom Wall, Huntington County United Economic Development Executive Director Mark Wickersham and representatives from the offices of U.S. Congressman Jim Banks and U.S. Senator Mike Braun joined Shuttleworth leaders and personnel in a ceremony at the facility Tuesday afternoon.
In his remarks, Commissioner Wall spoke about the impact of investments like Shuttleworth's across the Huntington community.
"I walk into this room and I see neighbors, I see relatives, I see people that I went to school with. We have a work force here in Huntington and we are really glad you are investing in it," Wall told Shuttleworth leaders and employees gathered at the event.
Mayor Strick said the city is excited to be partners in Shuttleworth's continued growth, crediting both the manufacturer's current and past employees whose diligent work created the conditions for success.
"Thank you for your contributions day in and day out. You're the ones who make these sorts of projects possible," Strick said.
Founded in Huntington in 1962, Shuttleworth engineers and produces cutting-edge material handling and product packing line equipment for automotive, electronics, paper conversion, e-commerce, healthcare, food, personal care and numerous other markets for a wide range of customers around the world, according to a company press release. Shuttleworth, which was purchased in 2011 by ProMach, moved to its Commercial Road location in 1969 and currently operates three facilities across Huntington.
"Because of the impressive efforts of every employee in our 60-year history who has brought us to where we are today, it was important what we celebrate the start of our expansion not only with the Huntington community, but with our entire team," said Ken Tinnell, vice president and general manager of Shuttleworth. "We also couldn't have done this without the help from the Huntington and Indiana economic development teams for their assistance in securing financial incentives to support this project. This new expansion will not only allow us to efficiently accommodate the larger automation systems we currently manufacture, but it will also provide opportunities for continued growth."
Shuttleworth has contracted with Felderman Design-Build for the expansion project.
"The expansion was necessary because of years of sustained growth of our Slip-torque conveyor systems, automated devices, and aftermarket services," said Matt Reich, Shuttleworth manufacturing manager. "Operating under one roof will help facilitate process improvements to develop workflow and operational efficiencies while providing opportunities for improved safety measures."