Posted Thursday, January 6, 2022.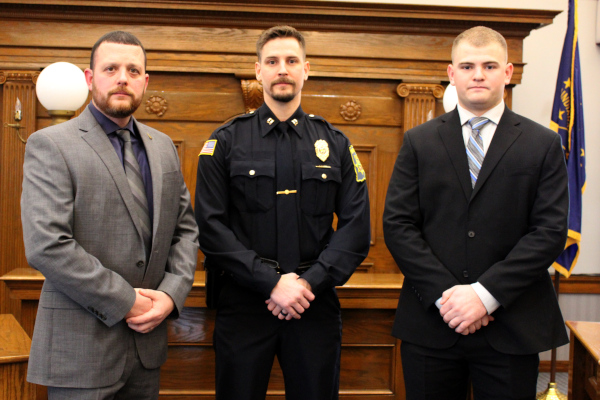 From left: Det. Sgt. Ty Whitacre, Capt. Eric Fluck, Officer Isaac Brown.
HUNTINGTON – Police Chief Cory Boxell announced the promotions of two veterans of the Huntington Police Department and welcomed a new officer to the team on Thursday afternoon.
Eric Fluck, who has served more than five years as a detective and eight years total with the department, has been promoted to captain. Chief Boxell noted that Fluck has proven himself a "true leader," great detective and even better supervisor in remarks during a ceremony at the Huntington City Building.
Capt. Fluck will oversee third-shift patrol officers as part of his new duties.
"We're very excited to bring Eric on as our newest captain with the Huntington Police Department," Chief Boxell said. "He just exemplifies what we love to see in a police officer."
Ty Whitacre has been with HPD for seven years in all, serving the last four and half years in the detective bureau. In promoting him to detective sergeant, Chief Boxell commended Whitacre's growth as a public servant who works hard to help community members and provide guidance to his fellow officers when needed.
"He's very passionate about detective work, he's very passionate about our community," Chief Boxell said. "He's going to be another true leader that's really going to take our detectives under his wings and help guide them."
HPD's newest officer is Isaac Brown, a Huntington native who has experience as a paramedic for Parkview EMS and as a volunteer with the Huntington Township Volunteer Fire Department. Chief Boxell selected a quote Brown wrote in an essay portion of the hiring process and read it aloud during Thursday's ceremony to show the new officer's commitment and pride toward serving Huntington.
"I cannot imagine responding to calls or serving any other community other than Huntington," Brown had written. "I will take great pride in ensuring that my community receives 100 percent of my heart and my effort when I serve them."
Fluck, Whitacre and Brown individually took oaths of office promising to uphold the U.S. and Indiana Constitutions and honestly, faithfully and impartially discharge their new duties with the Huntington Police Department.