Posted Friday, October 15, 2021.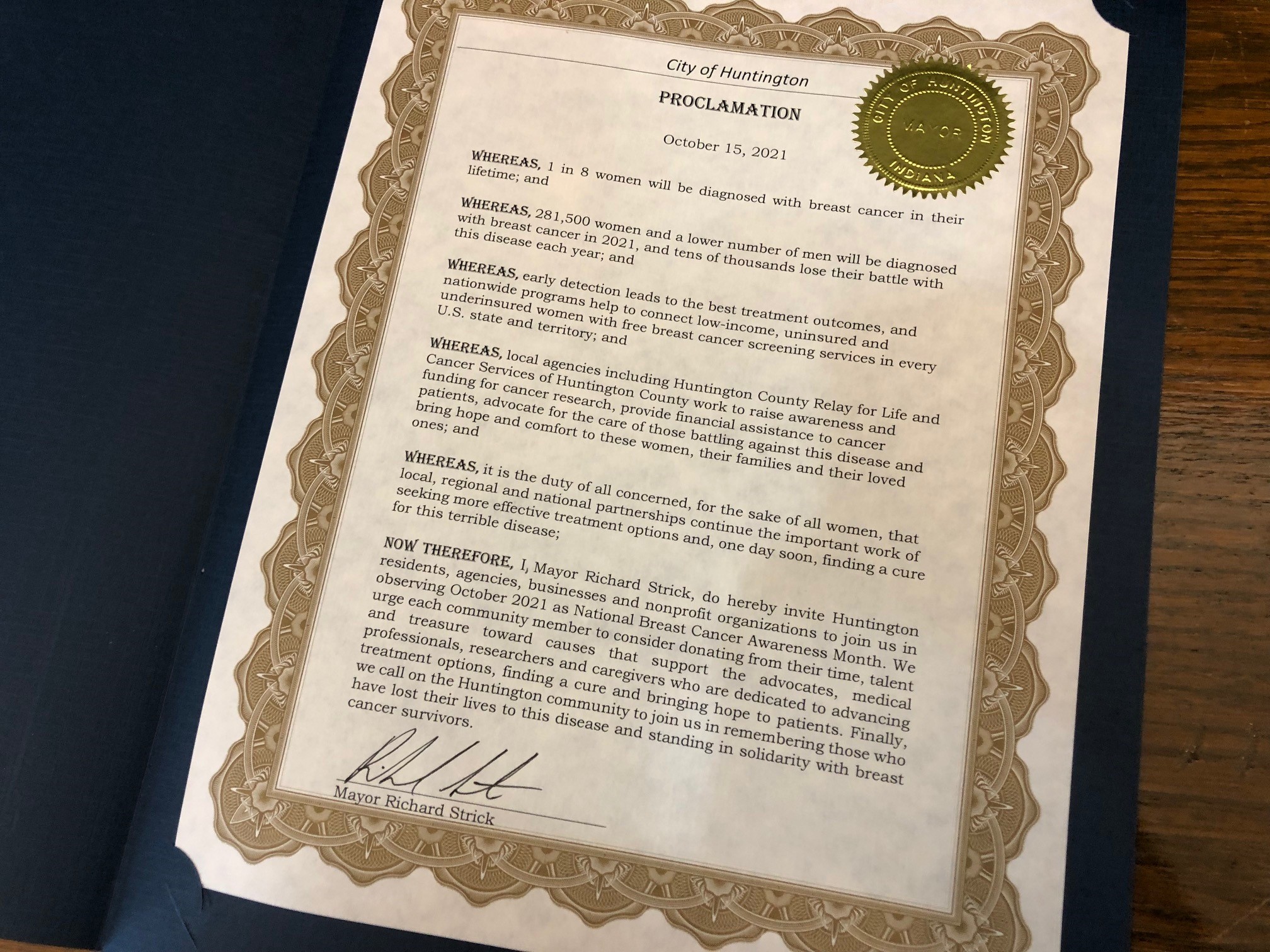 HUNTINGTON – One in eight women will develop breast cancer in her lifetime – which means just about anyone and everyone has a close friend or family member who has battled this terrible disease.
"Everybody knows somebody who has had cancer, and has possibly died from cancer," Mark Swing, president of Cancer Services of Huntington County, said. "It's one of those diseases that you don't have to look too far to find somebody with a loved one who has been struck by that disease and what it can do to a family."
"Everything else goes out of your mind" when your doctor says the word "cancer," Swing added. That's where agencies like Cancer Services of Huntington County and the local Relay for Life step up to help.
Cancer Services of Huntington County provides cancer patients with two primary types of financial assistance: reimbursement of transportation costs for travel to and from treatments and prescription medication aid for costs above the portion insurance covers. To qualify, an individual being treated for cancer just needs to have lived in Huntington County for at least one year, Swing said.
Patients are not billed for any assistance provided by Cancer Services of Huntington County, which raises funds for its program through grant opportunities, memorial donations, estate gifts and contributions from non-profit organizations such as the United Way.
"We pay everything we can" for cancer patients, Swing said. "They don't have to pay anything back to us."
For its part, the Huntington County chapter of the American Cancer Society Relay for Life organization works around the year to honor cancer survivors, promote how individuals can reduce their cancer risk, and raise money to help end cancer. In most years the local chapter raises tens of thousands of dollars toward cancer research, Huntington County Relay for Life chairs Mark and Vickie Kiefer said, although the pandemic has made fundraising more challenging these past two years,
"We relay for family, friends, teachers, neighbors and people everywhere who have lost their battle with cancer. We relay for all of those who have fought the fight and won the battle through new medicines, treatments and new equipment that makes surgeries easier and less invasive. We will continue to relay until we rid this world of this disease that affects all of us," Vickie Kiefer said.
Early detection – another area affected by the pandemic as many doctors' visits and screenings have been delayed – remains a key factor in successful treatment outcomes.
To this end, a national Centers for Disease Control & Prevention program aims to ensure access to regular screenings for all women. Low-income, uninsured and underinsured women may be eligible for free or low-cost screenings through the CDC program. Indiana residents can call (317) 233-1325 to find out if they qualify, or visit www.cdc.gov/cancer/nbccedp/screenings.htm to learn more.
For more information on Cancer Services of Huntington County assistance programs, call (260) 413-5551. To learn more about local Relay for Life fundraising efforts or to make a donation, visit www.relayforlife.org/huntingtoncountyin.
"Everyone knows someone that has been touched by cancer – a family member, friend, co-worker, neighbor or maybe yourself. Please consider joining our efforts in raising funds for cancer research and much more by supporting our local Cancer Services of Huntington County and Huntington County Relay for Life," Vickie Kiefer said.
Mayor Richard Strick issued a proclamation Friday afternoon to observe National Breast Cancer Awareness Month in Huntington.