Posted Monday, November 1, 2021.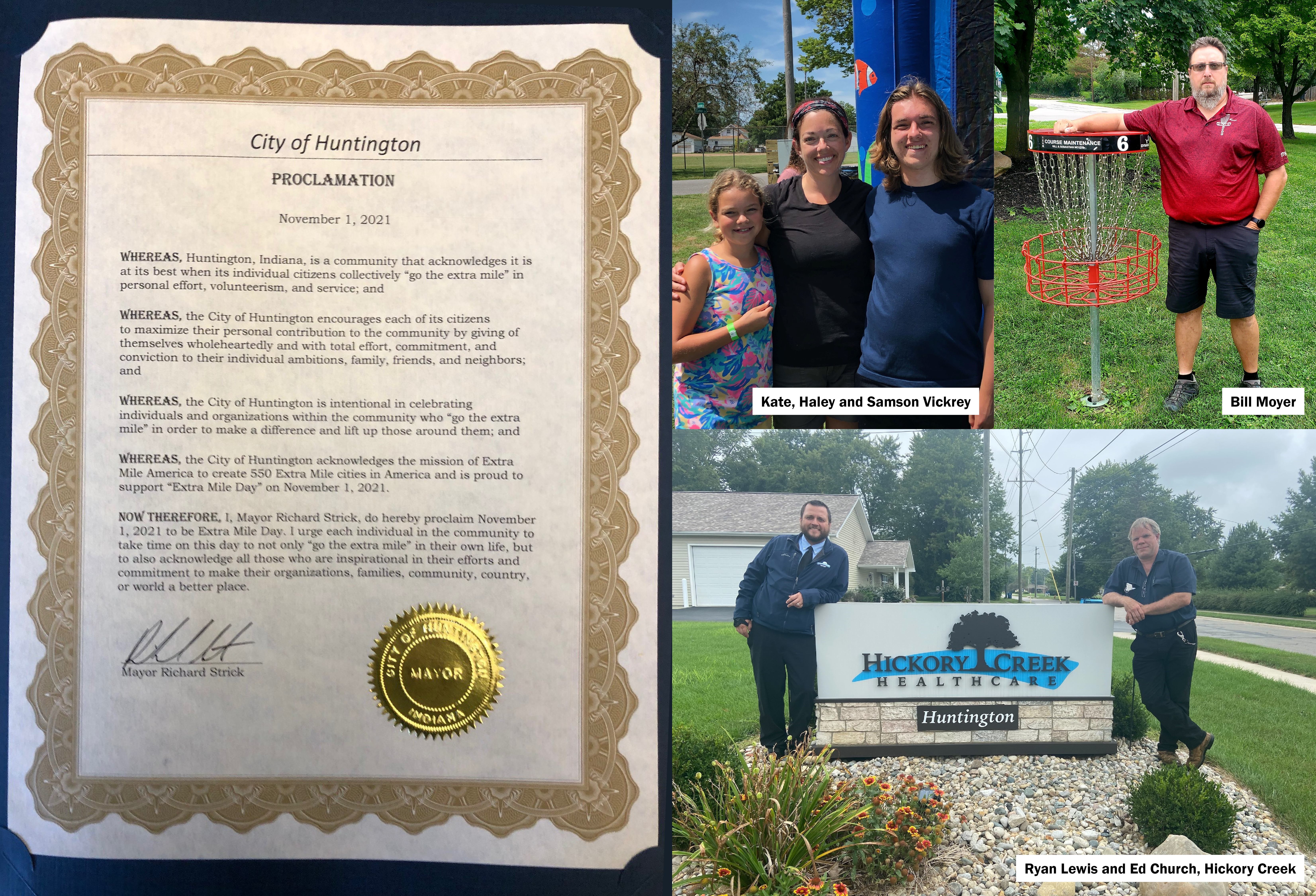 HUNTINGTON – The staff of a local senior care center, a city park enthusiast and a Huntington family each has received recognition from Mayor Richard Strick and the City of Huntington for going the "extra mile" for their community.
Hickory Creek Healthcare, resident Bill Moyer and the Vickrey family were honored during a Monday morning ceremony that also recognized November 1 as "Extra Mile Day" in Huntington. Focusing on volunteerism, cities and towns across the country celebrate Extra Mile Day each year to recognize community members who go above and beyond to serve and inspire others.
"Volunteering helps us get to know our neighbors and our neighborhoods. It's where good intentions become good actions. Ultimately, it's what helps us learn to love the place we call home," Mayor Strick said.
The national Extra-Mile America organization encourages mayors in participating cities to nominate up to three individuals, groups or organizations each year whose significant contributions help to make their city a better place. Nominees from across the country will be featured at ExtraMileAmerica.org.
Hickory Creek Healthcare has helped lead the way in efforts to maintain the beauty of downtown Huntington. Hickory Creek staff members volunteered for weekly projects for much of the last two years to maintain flowers planted across the downtown area, often bringing residents from the healthcare facility to participate and engage with the community.
Mayor Strick noted Hickory Creek's consistent, reliable volunteer work in nominating its staff for the award, adding that they have gone above and beyond to include residents in service who greatly benefit from getting out in the community.
"Most of us were all raised in this community, so it's kind of all of our responsibility," Hickory Creek Executive Director Ryan Lewis said about what motivates him and his co-workers to give back. "During the whole COVID thing, it was nice to get out and continue to strengthen those community bonds. Nursing homes were hit so hard that just anything we could do to help and come together as a community, that's what we wanted to do."
Huntington native Bill Moyer has similarly gone above and beyond for his hometown community. Moyer leads Huntington County Disc Golf, which helps to maintain two disc golf courses in Huntington and others around the county. At the same time, he has helped plan events and tournaments in addition to volunteering his time as a coach to promote outdoor recreation within city parks.
As of July, when Extra Mile submissions were put together, Bill had recorded more than 130 individual volunteer hours this year. Now, that number is nearing 200 hours. His volunteer work has sparked interest and created new recreation opportunities within Huntington parks.
Moyer said he first got started with disc golf as a way to bond with his son. Through that shared activity, Moyer's involvement in the community has continued to grow.
He gives most of the credit for being nominated for an Extra Mile award to his fellow Huntington County Disc Golf members.
"I'm only one shovel, I'm only one rake," Moyer said. "It doesn't get a lot done when you're only one. I've got a good group of guys, and it's really nice that our community supports us."
The Vickrey family – mother Haley and children Samson, Kate, Luci and Phoebe – went the extra mile by volunteering for several events this year through the Huntington Parks & Recreation Department.
The Vickreys were regulars on the Parks Department trail patrol, picking up trash and reporting any safety concerns they came across while enjoying the city's trail system as a family. They also volunteered as a family for fireworks clean-up following the city's Fourth of July display and the Big Family Bash, a community-wide concert and celebration held at Hier's Park in August.
"The City of Huntington is pleased to nominate this family unit as Extra Mile Heroes, demonstrating the importance of modeling volunteerism for the next generation," Mayor Strick wrote in nominating the Vickreys for the honor.
Learn more about volunteer opportunities in Huntington by visiting www.huntington.in.us/city/volunteer.