Posted Wednesday, October 27, 2021.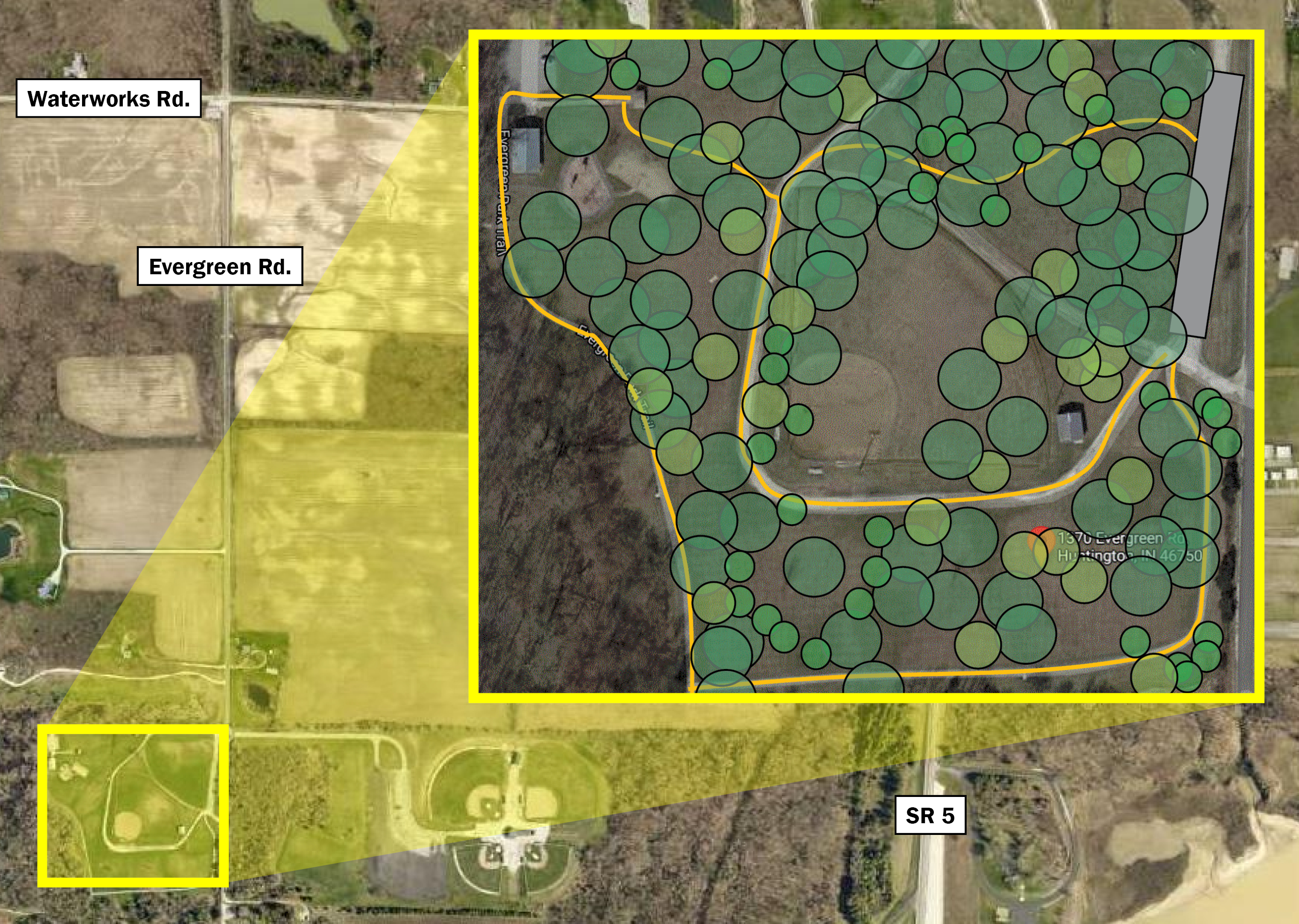 HUNTINGTON – The City of Huntington announced plans this week to begin preparations for a community arboretum with walkable paths and an outdoor event space at Evergreen Park, 1390 Evergreen Road.
"A designated arboretum in Huntington would be unique to Northeast Indiana. It will repurpose an underutilized space to create a place for the community to enjoy and learn about our native trees," said Kathryn Lisinicchia, a volunteer member of the Mayor's Advisory Council on Environmental Stewardship (MACES).
A 2021 Community & Urban Forestry Assistance (CUFA) sub grant in the amount of $12,880 will go toward planting 80 native trees within Evergreen Park; training for city staff, officials and advisory groups on proper tree care practices and urban forestry management; and creating educational materials and signage. The sub grant agreement stipulates the funds be used for these specific purposes.
The City of Huntington sub grant award is part of a U.S. Forest Service grant awarded to the Indiana Department of Natural Resources' Division of Forestry that provides $240,000 in funding for 14 projects statewide.
The Evergreen Park arboretum is a part of larger plans to bolster Huntington's tree canopy after losses due to disease and invasive forest pests. Other plans in development also include planting a variety of trees throughout the city as a way to provide shade and manage excess water from heavy rainstorms.
Twenty-five tree varieties native to Indiana will be included in the arboretum, with planting scheduled for spring 2022. The arboretum will be located in the middle of Evergreen Park, where two baseball diamonds are no longer used, and will feature an outdoor event space at its center.
Signage identifying the various tree species, providing educational information, and linking to online resources to learn more is also in the works. The City of Huntington is proud to partner with IDNR's Division of Forestry, Community and Urban Forestry Program on the project.
The diversity of tree species and educational materials will allow the city to seek special designation as an Accredited Arboretum through ArbNet. ArbNet is widely recognized for crafting internationally accepted standards for community arboretums. Indiana has just seven accredited arboretums, with the closest to Huntington located in Muncie and Valparaiso.
IDNR Community and Urban Forestry Assistance grants focus on fostering cooperative efforts to plan for, plant, protect and maintain community trees, forests and related natural resources. The CUFA grant funds six specific project types in the following order of priority:
Tree inventory and assessment.
Management planning.
Ordinance review.
Education and training.
New tree planting.
Community education and outreach.
"We are happy to support this community urban forestry project that takes a multi-faceted approach to establishing new plantings, growing the community tree canopy, strengthening staff and leadership knowledge in regard to all facets of urban forestry from tree maintenance to policy, and enhancing residents' quality of life," said Carrie Tauscher, Community & Urban Forestry program coordinator.
Before planting begins the Huntington Parks & Recreation Department will oversee preparations for the arboretum, including some that have already begun such as leveling the ground and removing light fixtures that were used at the baseball fields. The Parks Department also will manage ongoing care and maintenance at the arboretum as well as event space rentals.
The MACES volunteer task force and Indiana University Climate Fellow Hannah Staley, a City of Huntington intern, championed the arboretum plans and pursued grant funding for the project.
Investments in Huntington's tree canopy will be made from American Rescue Plan funds subject to City Council approval to mitigate more intense rains and improve cooling effects around the city.