Posted Monday, October 4, 2021.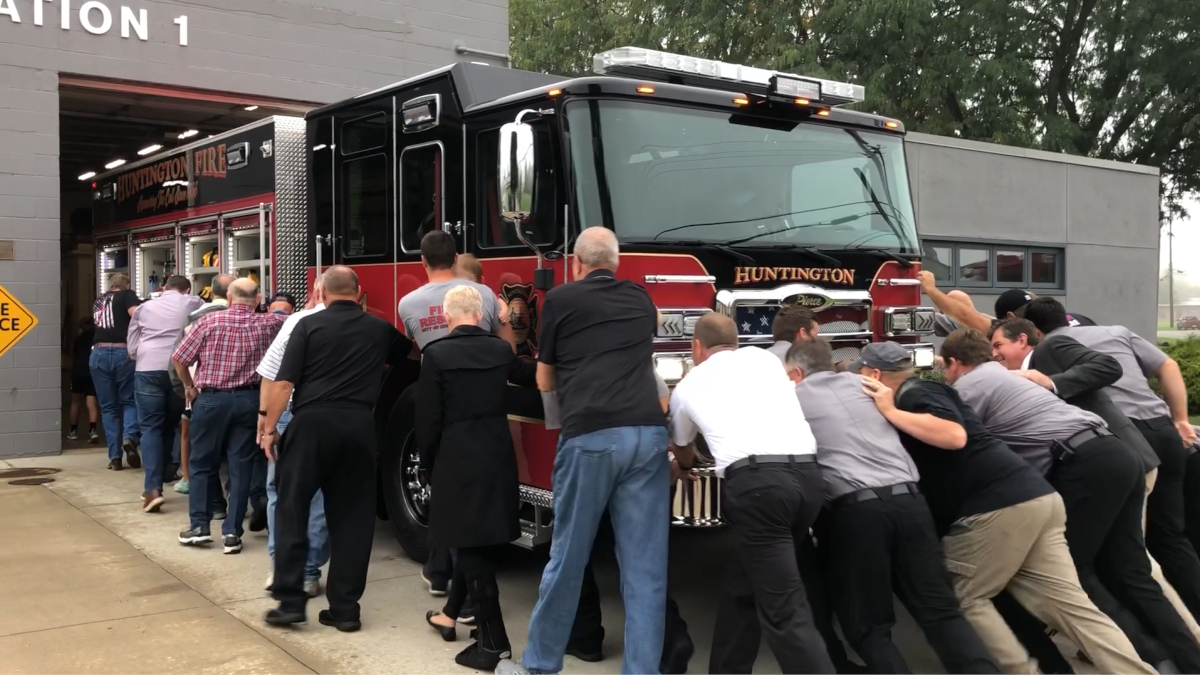 Huntington firefighters, city leaders and community members push a new fire engine into the Condit Street station on Monday, October 4, 2021.
HUNTINGTON – Firefighters and Huntington community members pushed a new firetruck into the Condit Street fire station Monday morning, capping a blessing ceremony that officially placed the new engine into service.
"The firetruck we have in service that we are replacing is a 30-year-old truck," Huntington Fire Chief Tony Johnson said. "It's actually our reserve truck, but it wasn't capable to handle the equipment that we needed it to have to do our job."
What's expected of a Fire Department continues to change, and firefighters today assist in all types of emergency and medical calls. The new truck carries additional, upgraded equipment that the reserve truck could not, helping the city's fire crews meet modern needs.
The Huntington Fire Department will place its 2013 engine into a reserve positon. This truck will already be equipped with rescue tools, so it is ready to respond whenever either of the two main trucks needs maintenance or repairs. The 30-year-old truck was not able to carry the rescue equipment.
"The fire service has changed so much in the 30 years since we bought that truck," he said. "We do a lot more extrication, we do a lot more confined space, a lot more rescue-type situations than we did before. That truck was set up to fight fire, and we're a jack-of-all-trades anymore."
Mayor Richard Strick spoke to a few dozen firefighters, city leaders and other community members who had gathered at the Condit Street station to kick off Monday morning's blessing ceremony. Chief Johnson followed with remarks thanking Huntington City Council and community members for their support of the Fire Department and backing its public safety efforts.
Pastor Bobby Kemp from Huntington Church of the Nazarene prayed over the new truck, and Father Tony Steinacker from Sts. Peter and Paul Catholic Church then completed a blessing ritual.
Pushing a new truck into the station is a tradition that dates to the 1800s when fire wagons were still pulled by horses, Chief Johnson explained. After a fire the horses would pull the fire wagon back to the station, but firefighters would have to unlatch their harnesses and push the wagon into the station themselves.
Chief Johnson reiterated that his focus is improving public safety and giving the city's firefighters the best tools to do their jobs well.
"What we're trying to do, is give the guys the best equipment that they have to be able to do the job they do and protect the citizens of Huntington," he said. "By getting this new truck it allows them to carry more tools that help them do their jobs more efficiently and better. It will be safer for them and safer for the people of Huntington."
The Fire Department took delivery of the new truck at the end of August, putting it into service Monday once firefighters had completed training on its equipment and new features.