Posted Tuesday, September 28, 2021.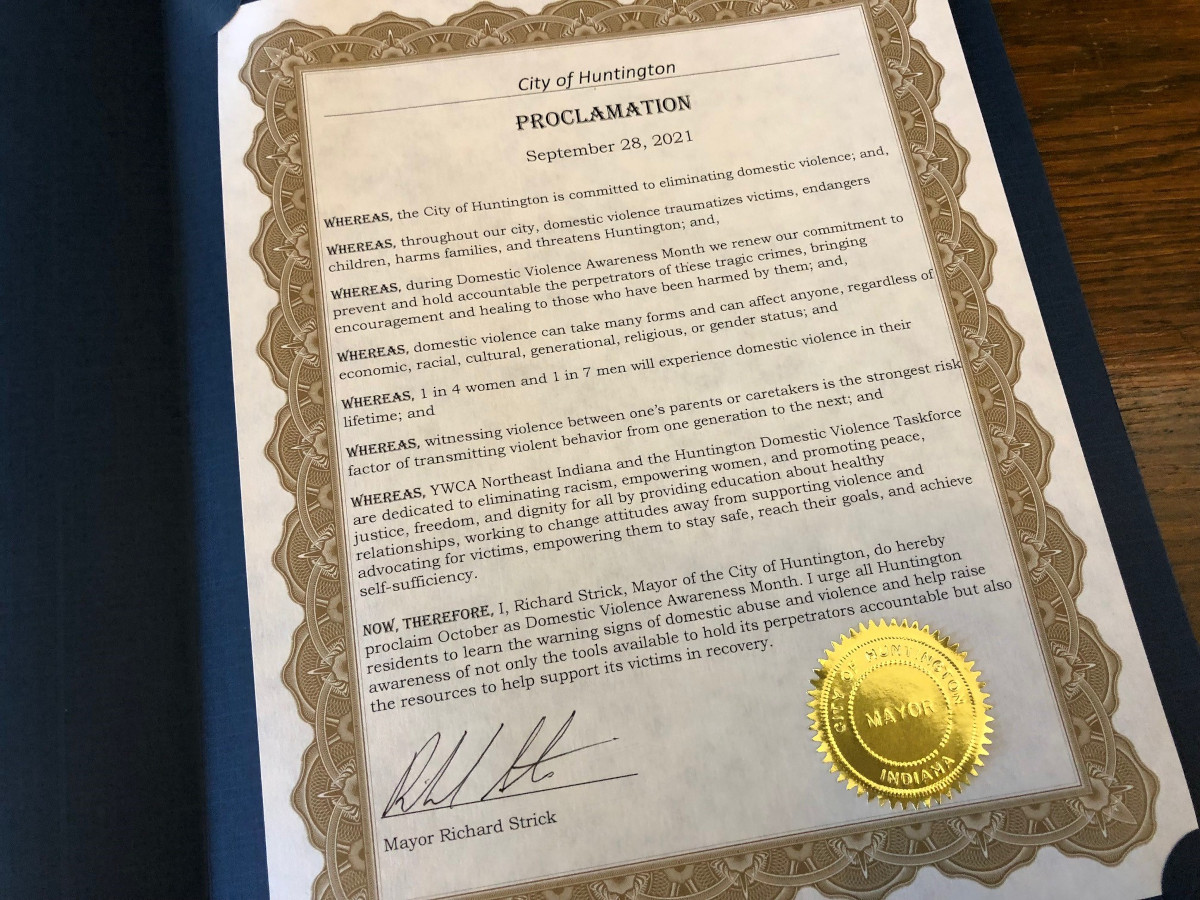 HUNTINGTON – One in 4 women and 1 in 7 men will be a victim of domestic violence in their lifetime, and the City of Huntington supports the YWCA of Northeast Indiana and its partners in their efforts to do something about it.
"During Domestic Violence Awareness Month we renew our commitment to prevent and hold accountable the perpetrators of these tragic crimes, bringing encouragement and healing to those who have been harmed by them," the mayor stated in issuing a proclamation Tuesday morning declaring October as Domestic Violence Awareness Month in Huntington.
The mayor's declaration challenges residents to be a part of the solution and help eliminate domestic violence in our community.
YWCA Northeast Indiana and its partners work together to help overcome the barriers that prevent domestic violence victims from coming forward. Employment and financial concerns, housing stability, child custody issues and, in some cases, mental health and addiction, are among the reasons some victims remain trapped in abusive relationships, according to YWCA Northeast Indiana Director of Empowerment Jennifer Rohlf.
The cycle can continue when children witness violence and abuse between their parents or caregivers. It is the strongest risk factor of perpetuating domestic violence from one generation to another, according to YWCA Northeast Indiana.
"Our hope with participating in awareness month is always to try to get the word out about services for those who are experiencing domestic violence and might not know there's a way out, that there are services that could help them," Rohlf said.
That's why YWCA Northeast Indiana and the Huntington Domestic Violence Task Force work around the year to raise awareness, break the cycle and provide comprehensive services for the multi-layered problem of domestic abuse and violence.
"Connection is huge. Connection to resources, whether that be financial assistance or child care options or housing options, but also support. The impact that low self-esteem and that ongoing control has on someone, where we can try to build them up and help them know they do deserve happiness, they do deserve better than what they've gone through," Rohlf said.
YWCA Northeast Indiana provides help and support for anyone in crisis. Women, men, transgender individuals and families of all types can call a 24/7 Domestic Violence Crisis Line to get help. A crisis shelter also is available for individuals or families who need a safe place to stay.
Call (800) 441-4073 to reach the crisis line or if you are in need of safe shelter.
The YWCA also provides:
Community-based advocates who work one-on-one with individuals who are experiencing domestic violence and need personalized help, including mental health and addiction counseling. Call (260) 424-4908 ext. 113 or email advocatecoords@ywcarew.org to speak with an advocate.
Free therapy services for domestic violence survivors. Find more information at ywcanein.com/clinical-mental-health-counseling.
Rohlf emphasizes that these resources are always free, completely confidential and can be obtained through an advocate who will come to a person in crisis to make sure help is accessible. While many people may think of YWCA Northeast Indiana as a women's shelter serving the Fort Wayne area, Rohlf says that's far from the full picture.
"That's not the case. YWCA is in Huntington," Rohlf said. "We come to Huntington. Clients never have to step foot in our building for us to provide services, so that's sometimes a preconceived idea."
To learn more or make a donation, visit ywcanein.com.