Posted Friday, August 6, 2021.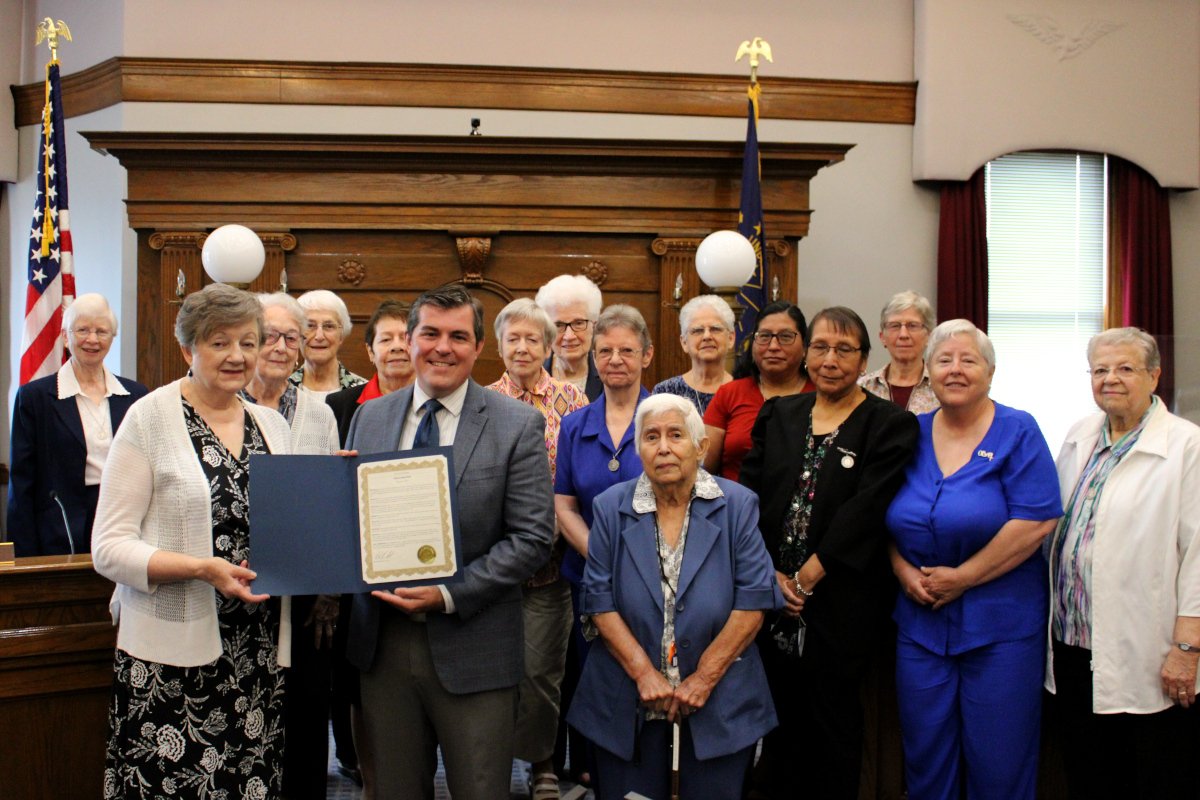 HUNTINGTON – The City of Huntington took time to recognize the Our Lady of Victory Missionary Sisters – commonly known as the Victory Noll Sisters – and a century's worth of compassionate service they've provided during a Friday morning ceremony at the Huntington City Building.
Mayor Richard Strick signed a proclamation on Friday recognizing the Victory Noll Sisters' Centennial Year, which they will celebrate from August 5, 2021, to August 5, 2022. The order was founded in 1922 by Father John Joseph Sigstein, and the OLVM Central House on the Victory Noll campus was built and dedicated in Huntington three years later with the help of Our Sunday Visitor founder and publisher John Francis Noll.
"Throughout the years the Victory Noll Sisters have been a voice for the poor, marginalized and oppressed," Mayor Strick said. "We are proud of their selfless work and that they have called Huntington home for so many years."
The Sisters' work to raise awareness of injustice and promote human rights and a better quality of life for all has taken them throughout the United States and Bolivia, OLVM Sister Judy Turnock said. A simple, adaptable way of life enables them to go where people are hurting and in need, developing leaders in these communities to sustain their work and meet each community's specific needs. While this has taken many forms in the past 100 years, poverty and unemployment, immigration issues and trafficking of women and children are now at the forefront of their mission.
The Victory Noll Sisters continue to live out the Father John Joseph Sigstein's founding vision – one of prayer, action and compassion for the poor and oppressed.
"Our mission is to proclaim the gospel in word and action, to foster justice, to stand in solidarity with those living in poverty and oppression, and to promote the development of leaders," Sister Mary Jo Nelson said. "Our lives are marked by the core values of hospitality, justice, simplicity and adaptability."
As the Victory Noll Sisters age and their congregation grows smaller, the order has worked with local partners to ensure its Huntington campus continues to serve the community for years to come. One way this has come to fruition is last month's blessing of the O'Donnell Center at Victory Noll, where Huntington County will run a treatment-focused addictions recovery center.
"We had quite the lineup of individuals that care about people in our community," Huntington County Commissioner Tom Wall said during the July 13 blessing ceremony. "They all know that we need to do something else besides put people in jail – that they need to have some kind of treatment in this community."
A number of county government offices also will relocate to the O'Donnell Center, and a new radio antenna there will provide a boost to law enforcement and public safety communications capabilities across Huntington County.
The Victory Noll Sisters also have partnered with the ACRES Land Trust and Saint Anne Communities for use of the campus.
Victory Noll is located at 1900 W. Park Drive in Huntington.
Click here to read the proclamation.