Posted Tuesday, June 29, 2021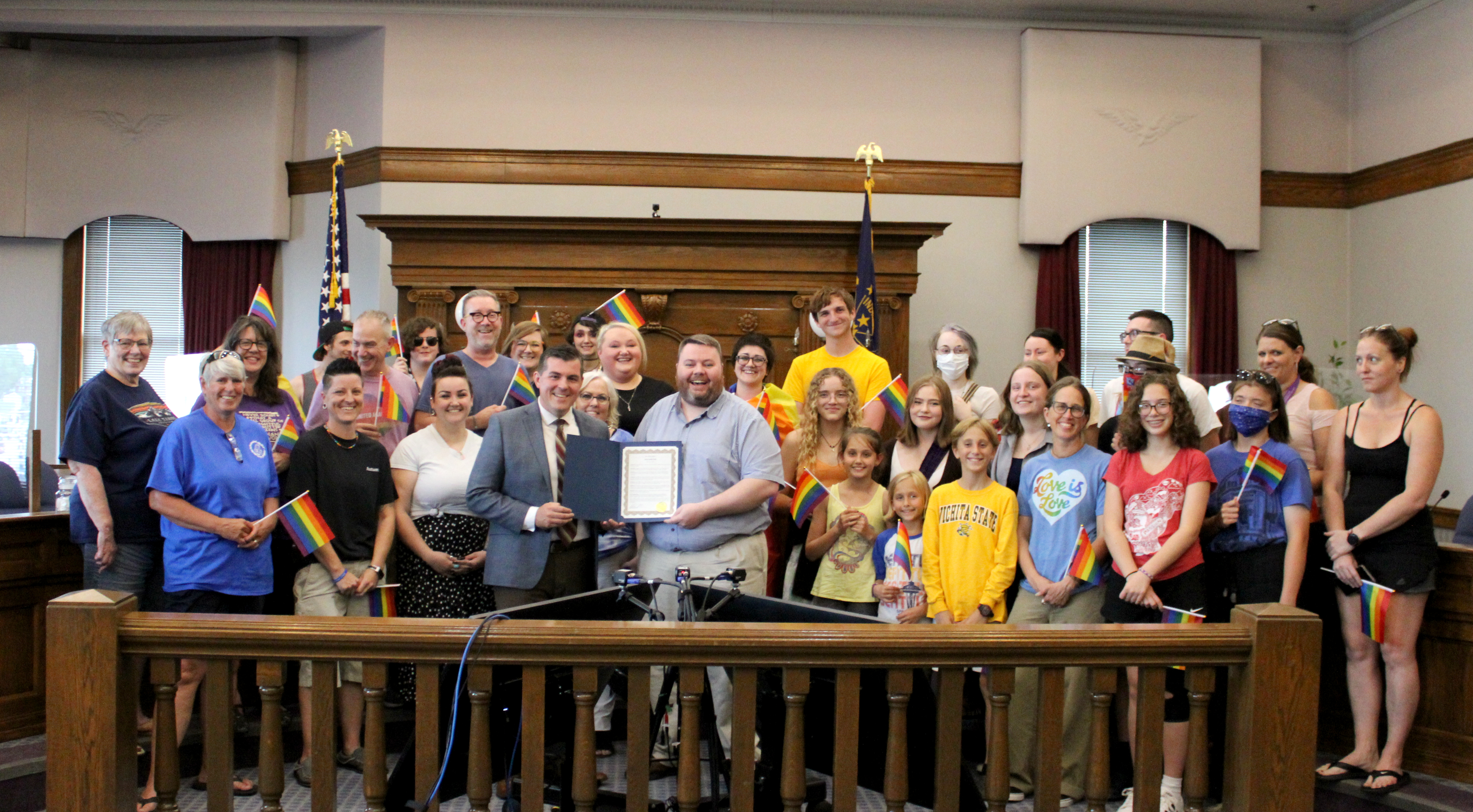 Mayor Strick presents Huntington Pride Director Orion McCormack with a proclamation welcoming the diversity of all Huntington residents in a Tuesday afternoon ceremony at the City Building.
HUNTINGTON – The City of Huntington issued a proclamation Tuesday afternoon recognizing and welcoming the unique dignity and diversity of all Huntington residents – in particular our lesbian, gay, bisexual, transgender, queer, intersex and asexual friends, neighbors and family members.
"Members of the LGBTQIA communities are our neighbors, friends, brothers, sisters, children, fathers, mothers, aunts, uncles and cousins," Mayor Strick said. "They have demonstrated patience and graciousness, strength and resiliency, and innovation and investment in this city."
Tuesday's proclamation builds on the Huntington City Council mission statement, adopted in 2007, that recognizes diversity as a strength and commits Huntington to being "a community of civility and inclusion, where diversity is honored and differences are accepted."
Orion McCormack, director of Huntington Pride, advocates for all LGBTQIA individuals in the Huntington area. McCormack said the city's proclamation is an extension of progress and community support that have taken hold.
"This proclamation is a lot more than just words on paper," he said. "It is a step toward ensuring that the LGBTQIA community is safer and more welcomed here in this amazing city. In my work with Safe Huntington, now Huntington Pride, I saw that many issues were not rooted in prejudice, but in miscommunication. This community has already had supporters and allies in all levels of its businesses, schools, churches and administration. This proclamation just addresses it on a much larger scale."
Historically, LGBTQIA individuals have faced higher levels of violence, harassment and discrimination – problems that have often been compounded with other forms of discrimination on the basis of race, religion, disability and age, among others.
Reflecting on his own experience, McCormack has seen first-hand the struggles and challenges LGBTQIA people face, but also their strength and resiliency in overcoming them.
"If we are going to end the countless lives lost due to suicide, drug use or hate crimes that afflict the LGBTQIA community, we must teach love and acceptance," McCormack said. "That is why I joined Huntington Pride two years ago to make a difference."
The City of Huntington stands beside the LGBTQIA individuals who live and work in our community and continues to promote civility and inclusion for each and every person who calls it home.
"I encourage all people in our city to join our efforts to root out discriminatory policies and practices toward any culture, race or group," Mayor Strick said.