Updated Monday, June 21, 2021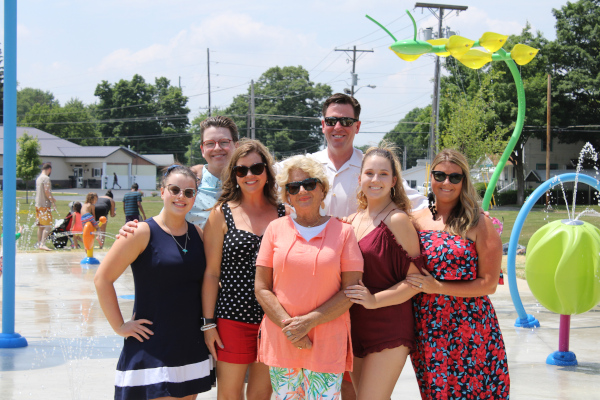 Family members of former Mayor Terry Abbett, from left: Delaney Finderson, Dar Finderson, Terra Finderson, Connie Abbett, Roger Finderson, Zaira Finderson and Traci Ross.
HUNTINGTON – Family members of Terry R. Abbett celebrated the reopening of the splash park named for the former mayor during a ribbon-cutting ceremony Sunday afternoon.

Connie Abbett, the Terry Abbett's widow, and Traci Ross, the youngest of his four children, spoke during the ceremony.
"Today, hopefully Terry is smiling down on us and really tickled with what is happening," Connie Abbett said.
"He is the person I want to make most proud, the person I wish I could see every day and the person I miss most in this world," Traci said.
The renovated splash pad reopened on June 4 and is located within Drover Park, 1215 Etna Ave. Hours are 10 a.m. to 8 p.m. daily through Labor Day.
Improvements to the splash pad include a larger play area with more water features and a system that recycles and treats water to reduce usage and provide a fun, safe environment.
The original splash park first opened in 2006 and was later renamed for the former mayor, who championed the project.
***
Posted Friday, June 18, 2021
HUNTINGTON – A ribbon-cutting ceremony will be held at 2 p.m. Sunday, June 20, at the updated Terry R. Abbett Splash Park.
Connie Abbett, Mayor Abbett's widow, will speak during Sunday's event and cut the ceremonial ribbon.
Food and refreshments will be available for purchase from the Saucy Zoodle food truck and Kona Ice.
The splash pad will be shut off during the ceremony, but the public is invited to attend the ribbon-cutting and enjoy the new splash park after its conclusion.