Posted Thursday, June 17, 2021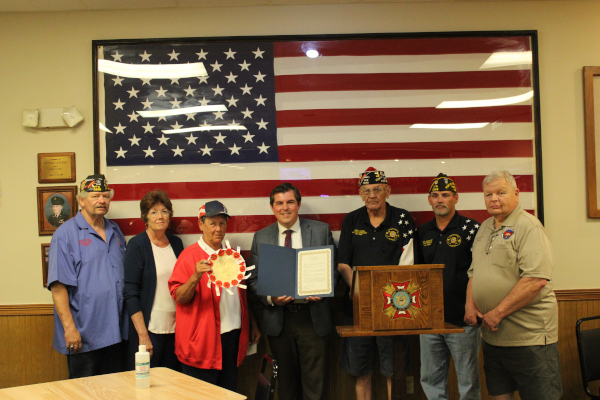 HUNTINGTON – Members of Veterans of Foreign Wars Post 2689 celebrated Buddy Poppy Days Wednesday evening, with Huntington Mayor Richard Strick reading a proclamation recognizing the century-old tradition.
VFW and Auxiliary members have distributed poppies since after World War I to raise money for soldiers and their families. In exchange for a plate of poppies, the person who receives it in turn makes a donation to support veterans, their dependents and orphans.
As part of Wednesday night's event, Mayor Strick made a donation for the local VFW's first poppy plate this year.
"It is always important to recognize and remember those who sacrificed so much for our country and the terrible costs of war," Mayor Strick said.
The poppy has been used as a symbol to honor and remember fallen soldiers for more than 100 years, and it is the official memorial flower of the VFW. A national program to distribute them to benefit veterans and their families was launched in 1922, according to the VFW website.
Poet John McCrae's 1915 poem "In Flanders Fields" famously used poppies to symbolize the blood shed during battle, as the red flowers became prevalent in European soil enriched with lime from the rubble left by war.
Official VFW poppies are made by disabled, hospitalized and elderly veterans, who receive compensation and financial assistance through the program.
Poppy plates are available to members of the Huntington community for a donation at the VFW Post, 220 W. Park Drive. VFW and Auxiliary members also will distribute them Saturday, June 26, at the Huntington locations of Walmart, The Country Post and The Trading Post.