Posted February 23, 2021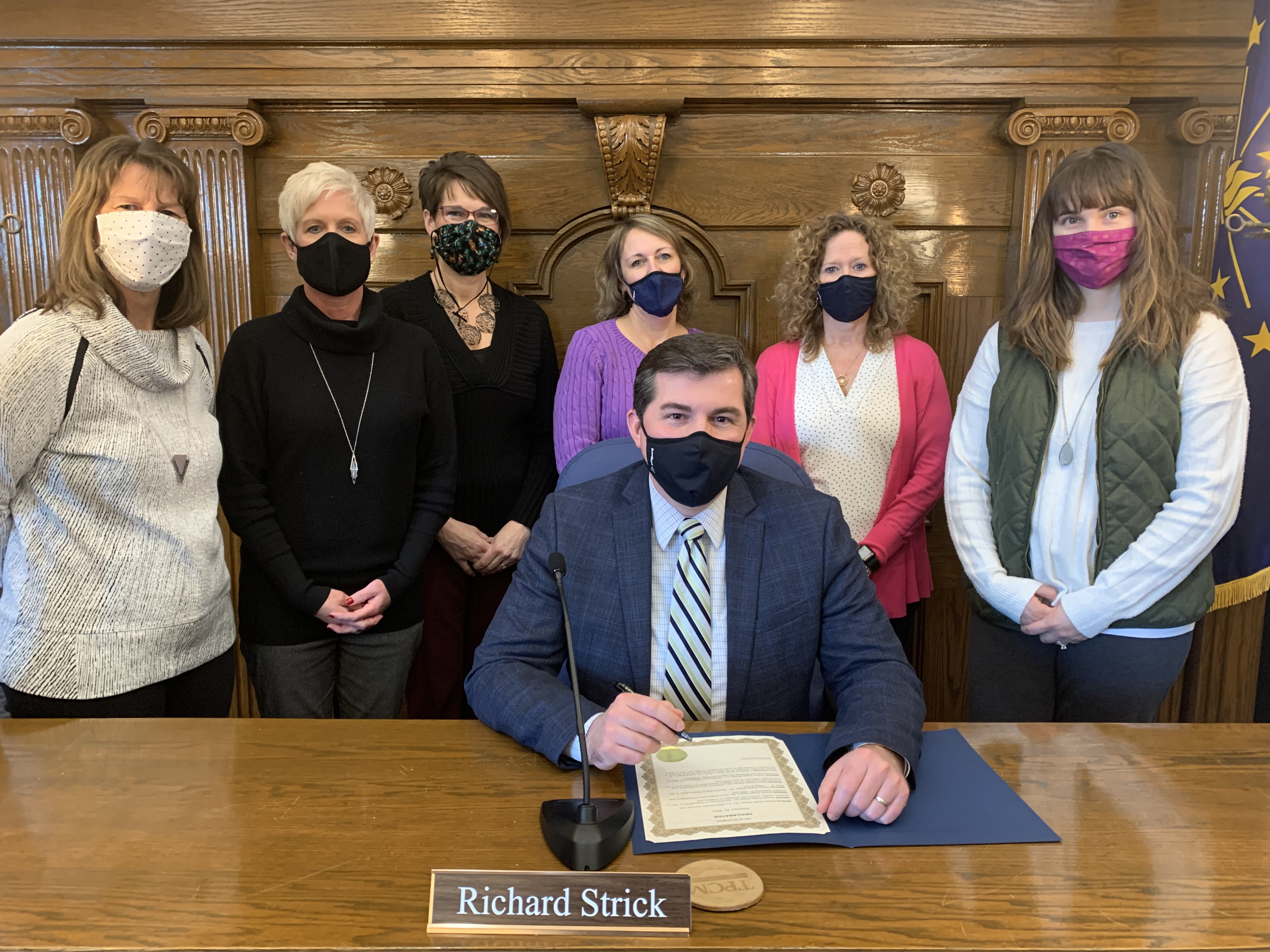 Tri Kappa's local Chi chapter was represented at a proclamation signing Tuesday, February 23, 2021, by (from left) Jodi Scheiber, member; Annette Carroll, president; Lori Mickley, Tri Kappa Week chairperson; Christi McElhaney, member; Sherry Miller, member; and Amber Rensberger, member. Mayor Richard Strick is seated in front.
HUNTINGTON –Tri Kappa's local Chi chapter is celebrating the sorority's 120th anniversary with several acts of kindness and generosity.
"The purpose of 'Tri Kappa Week' is to support everyone who helps make Huntington a great place," said Annette Carroll, the local chapter president. "We are proud to give back to the community."
On Wednesday, the Chi chapter will provide food to volunteers at Huntington County's COVID-19 vaccination clinic. Highway and Street Department employees with the city and county will then be treated to snacks on Thursday as a thank you for the many hours spent clearing roadways following recent heavy snowfall.
Chi members also will donate feminine hygiene products to Huntington County Community School Corporation student wellness clinics as part of "Tri Kappa Week," which the statewide organization celebrates each year.
In addition, the Chi chapter is accepting applications for its General Scholarship and Laura Blackburn Scholarship awards. The former is awarded to a high school senior planning to attend a post-secondary institution, and the latter is awarded to a high school senior or college student who is pursuing a career in education.
To request an application, contact Chi chapter scholarship chair Lori Mickley at kmickley@comcast.net or (260) 450-6920. Applicants must be Huntington County residents, and the deadline to apply is April 1.
Statewide, Tri Kappa awards annual scholarships to traditional and non-traditional students pursuing careers in fine arts, music education and nursing.
Tri Kappa's first formal meeting was held February 22, 1901, in Indianapolis. Its membership now exceeds 8,000 women across 144 active chapters and 102 associate chapters, all within the state of Indiana. The local Huntington chapter began in 1906.
From its start, Tri Kappa has worked to promote charity, culture and education.
Notably, the organization and its chapters make annual contributions in support of Riley Children's Hospital, the Ronald McDonald House, the Alzheimer's Association and Special Olympics, among others.
The Tri Kappa Fine Arts Endowment Fund supports art education efforts statewide, and the organization houses a collection of works by Indiana artists at the Rose-Hulman Institute of Technology in Terre Haute.
In recognition of the Chi chapter's efforts, Mayor Richard Strick signed a proclamation Tuesday afternoon declaring February 21-27 as Tri Kappa Week in the City of Huntington.