Posted Tuesday, August 25, 2020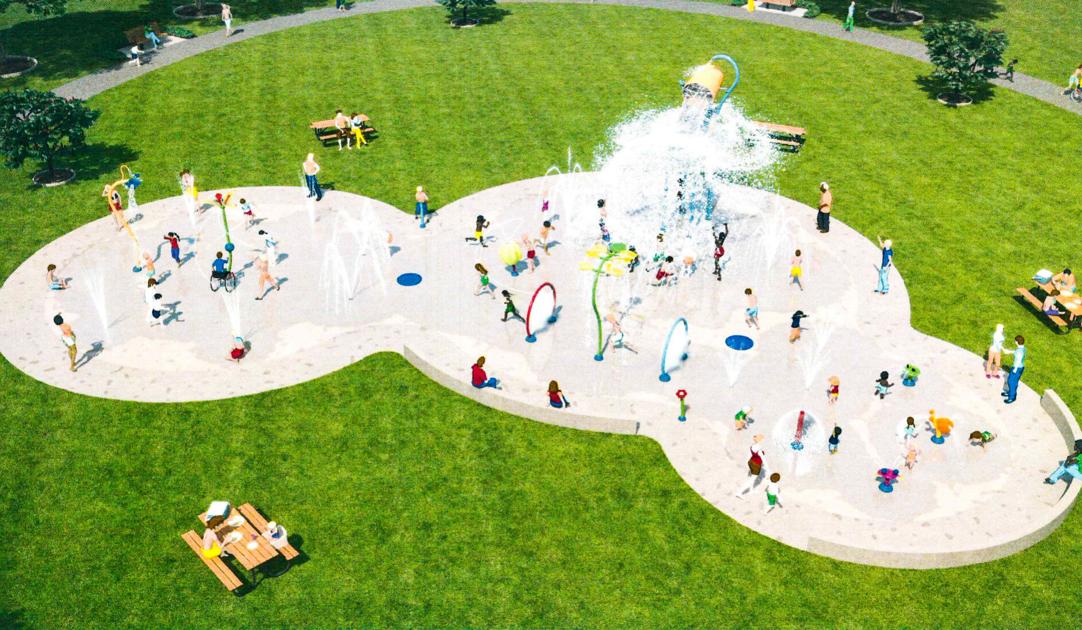 ABOVE: A rendering of the updated and expanded Terry R. Abbett Splash Park approved Tuesday by the Huntington City Council.
On a 6-1 vote Tuesday morning, City Council members approved the replacement and expansion of Huntington's splash park.
Updates to the Terry R. Abbett Splash Park, located within Drover Park at 1215 Etna Ave., will be completed in time to open next season.
"You can expect to see dirt moving around here in the next couple weeks and some concrete being laid yet this year," Huntington Parks Superintendent Steve Yoder said, "and by next Memorial Day we'll have a brand new splash pad for the whole community to enjoy."
The splash park first opened in 2006 and was later renamed for former Mayor Terry Abbett, who championed the project. Plans to replace it in 2023 were moved ahead after COVID-19 concerns forced a difficult decision to close the facility this year.
The Huntington City Council on Tuesday heard comments from Terra and Roger Finderson, who are Abbett's daughter and son-in-law, and Bob Caley, a local businessman, in favor of updating and expanding the park. Yoder then presented a video of Huntington residents voicing their support and Director of Public Works and Engineering Adam Cuttriss answered questions on funding the new splash park before Council members continued deliberations.
Council members ultimately approved the additional expenditure of cash on hand in the Parks fund which, due to state regulations, could only be spent within the Parks system. The project will cost approximately $395,488.
A system to recycle and treat water used in the park, a feature of the equipment to be installed, qualifies the project for reimbursement through the federal CARES Act in the amount of $116,280.
The system will reduce water usage, which exceeded 4 million gallons in 2019, to about 12,000 gallons a year. The City anticipates it will save another $10,000 per year in operations as a result.
The 5,347-square-foot facility will be roughly 50 percent larger than the current splash park and is expected to have a 20-year lifespan.
Council members first took up the issue during their July 14 meeting, initially voting 4-3 against the park's replacement. However, after requesting additional information about ongoing maintenance problems and leaks, funding for the purchase and federal CARES Act reimbursement, Council members expressed interest in reconsidering the proposal at a later date.
A public hearing and first reading of the most recent ordinance was then held on August 11, with the Council voting to advance it to Tuesday's second reading.
"I appreciate the community members expressing strong support for the project. I also recognize the importance of Council members putting the project through a rigorous examination," Huntington Mayor Richard Strick said. "It was good to work with Council members in addressing concerns and questions and I applaud their willingness to reconsider earlier votes as we moved through the process together."
The $395,488.46 appropriation approved Tuesday includes $7,150 for demolition by Dirt Excavating Inc. and $51,303.46 for new concrete work by E&B Paving; both are Huntington businesses. Vortex Splash Pad, an internationally recognized company, will supply and install the system.