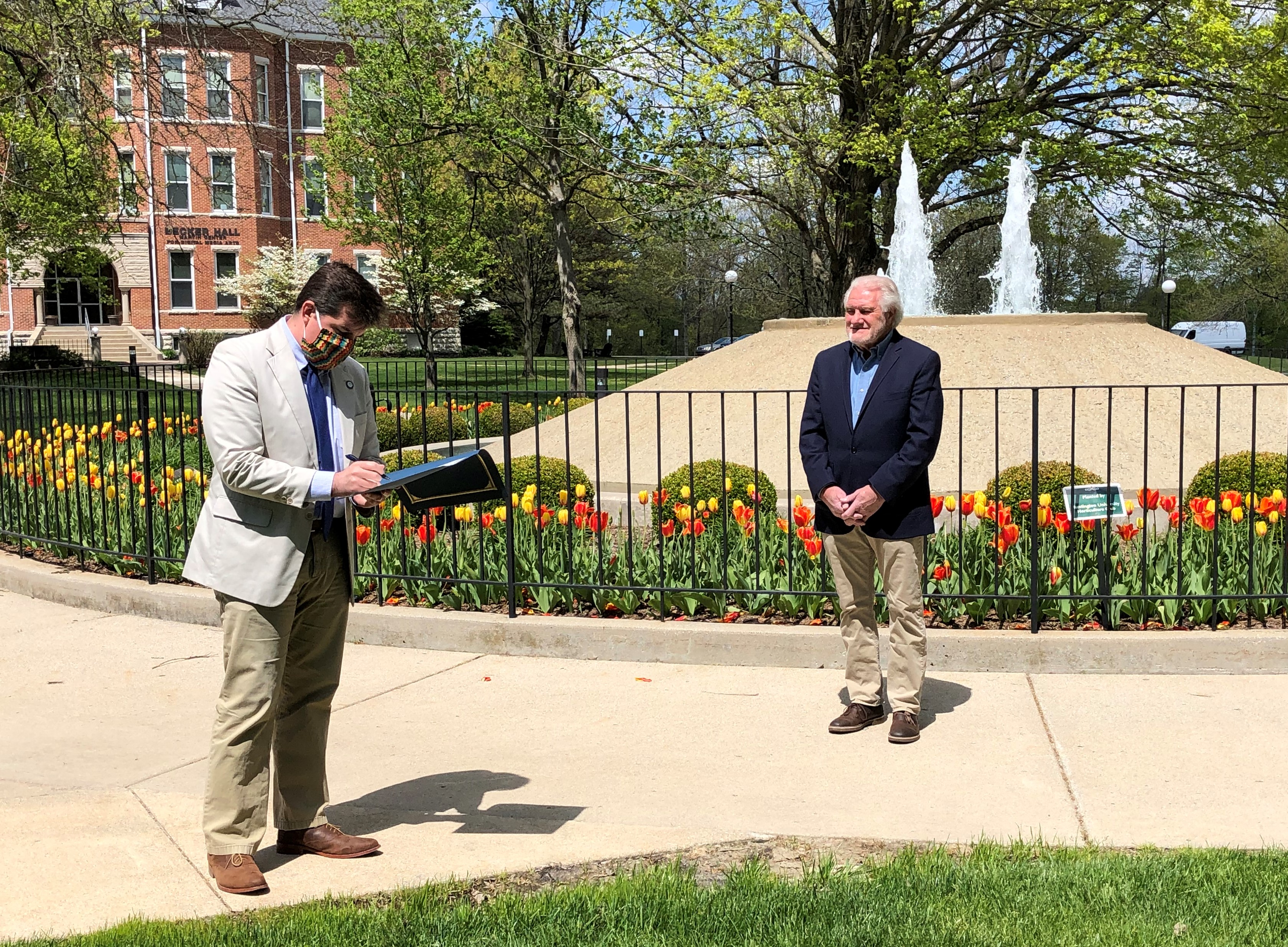 Over the past 35 years, Dr. Norris Friesen has become a cornerstone of Huntington University and the wider community.
Now, as he announces his retirement from higher education, a city proclamation signed Friday recognizes his years of service, instruction and leadership and declares May 8 as Norris Friesen Day.
"I have met and worked with some phenomenal people who have impacted my life in so many ways," Dr. Friesen said. "It has truly been a privilege to serve together."
Dr. Friesen's last day at Huntington University will be May 31. Prior to being hired in 1985, he also held various positions at Tabor College in Hillsboro, Kansas.
Among the experiences he remembers most, Dr. Friesen lists working with individual students as a mentor in campus ministries and volunteer programs. He was involved in the design and construction plans for several residence halls and academic buildings, and he also helped oversee the expansion of curriculum to include undergraduate programs in nursing, social work, digital media arts and worship leadership and master's programs in counseling and education.
"Huntington University will always be a special place for me," Dr. Friesen said, "and I am thankful for the opportunity to have had a significant role in what it has not only become but is becoming."
Over the course of an influential career, Dr. Friesen is best known for the positive impact he made on the many colleagues, students and community members around him.
Dr. Ron Coffey, the university's vice president for student life and a colleague of Dr. Friesen's for more than three decades, describes him as a true champion of others who always made you feel as if you were the focus of the conversation.
"Norrie is amazingly authentic and I believe students have always appreciated that quality," Dr. Coffey said. "Without question, his greatest legacy will be service. He has led so many trips and influenced a great number of students to adopt a servant's mindset."

Andy Vaught, a 2006 HU graduate and university employee from 2012 to 2017, said Dr. Friesen's influence shaped who he is today and changed how he tries to engage with others.
In Vaught's words, Dr. Friesen was a mentor who "always wanted to help students learn and grow."
"Every interaction leaves you feeling like you've learned something new or been challenged to think about things in a new way," said Vaught, who obtained a master's of student affairs administration in higher education from Ball State University and is now the director of initiatives for the North American Coalition for Christian Admissions Professionals.
Weekly lunch conversations Dr. Friesen hosted became some of the most vivid memories Vaught has of college. Dr. Friesen's mentorship also extended to regular spring break service trips, of which Vaught went on three as an undergraduate student.
"Without even realizing it, every conversation with him was a small life lesson – Norrie teaching, all of us learning," Vaught said about those trips. "When I came back to HU to work as an admissions counselor and a resident director, we continued to meet for lunches, thought-provoking conversations, professional encouragement and an endless supply of his life's experience and wisdom."
Dr. Jeffrey Webb, the university's professor of American history and chair of the committee of faculty representatives, said the mentorship and leadership Dr. Friesen displayed "helped to build a vibrant culture of learning among students, faculty, staff and community folks outside HU's walls."
A heart for service and volunteerism is Dr. Friesen's lasting legacy.
"Norrie did more than anyone I know at HU to promote selfless Christian service to the poor, the homeless, the disadvantaged and the marginalized," Dr. Webb said. "Generations of devoted Foresters can testify to having been awakened to service by Norrie's mentorship and inspired to serve through programs he directed."
As Huntington University's director of volunteer service and outreach ministry, Dr. Friesen advises the Friesen Center for Volunteer Service, named in his honor in 2013, and directs the Campus Ministry Coordinator program. He also serves as a professor of German.
He was first hired by Dr. Eugene Habecker to become the dean of student services in 1985 for Huntington College, as it was known before 2005. Dr. Friesen was then appointed vice president for student development in 1993, interim academic dean in 2002 and vice president and dean of the university the year after.
Dr. Friesen earned a bachelor's degree in German from Tabor College, a master's degree in higher education administration from Kansas State University and a Ph.D. in counseling and student affairs administration from Purdue University.
He has long taught a popular January term course at Huntington University on civil rights and serves on the boards of Huntington County Habitat for Humanity and Christian Service International.
Dr. Friesen and his wife, Grace, also are active in the College Park United Brethren in Christ Church and the Huntington Mennonite Fellowship.
His plans for the immediate future include travel and additional time with family.
"I am intentionally not planning to make any specific commitments for a year to recalibrate and explore what life will be like without immediate deadlines, expectations and a daily routine," he said, adding that "Huntington University has been an incredible experience for me."