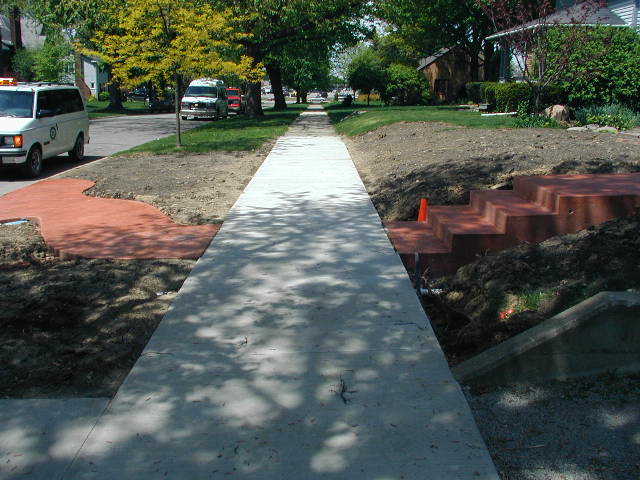 Huntington residents can again benefit from the city's Sidewalk Replacement Program. The program is back this year and offers homeowners the opportunity to split the cost of new sidewalks with the city.
The Sidewalk Replacement program pays up to 50% of the cost of new sidewalks and 100% of the cost to install ADA-compliant sidewalk ramps.
The program was revamped in 2014 and has proven beneficial to city residents.
"We're happy to offer the Sidewalk Replacement Program again this spring," said Adam Cuttriss, City Engineering Inspector/Technician. Cuttriss said the program has grown slightly each of the last four years and he anticipates further growth in 2017.
"We hope the trend will continue and more residents will take advantage of this cost-sharing benefit," said Cuttriss.
The application process is unchanged from last year. Residents can download an application from the city's website or pick one up at the City Engineering Department's office at 300 Cherry Street, Huntington, Indiana, 46750.
Those requesting reimbursement through the Sidewalk Replacement Program should wait until their application is approved before beginning their project. All work must be completed within 90 days of written approval from the city, unless an extension is granted. The City of Huntington Engineering Department must approve any changes to the proposed improvements in advance and will inspect each project before concrete is poured and again after the project is complete.
If all conditions are met, the city will reimburse the contractor for 50% of the project cost, subject to the approved maximum cost per square foot. The maximum cost per square foot will be announced in late February or early March at a Board of Public Works Meeting. The city's maximum cost-sharing contribution can change yearly because of the fluctuating cost of concrete. The maximum city share in 2016 was $3.00 per square foot of 4" regular sidewalk, $3.10 per square foot of 4" curbface, and $3.25 per square foot of 6" drive approach.
Property owners may submit a Sidewalk Replacement Program Application at any time, but the city will wait to review and approve applications until a maximum price for improvements is set. Visit the city's website for full program details.