On May 1 Gov. Eric Holcomb announced a five-stage Back on Track Indiana plan, a methodical approach targeting July 4 for a full reopening of the state.
As businesses reopen it is of vital importance for employers, employees and customers to know and understand the guidelines, and they are encouraged to review them at www.backontrack.in.gov/industryguidelines.htm.
The plan relies on data to drive decisions and implements four guiding principles to determine if stages to reopen various sectors of the economy will move forward.
The four guiding principles are:
The number of hospitalized COVID-19 patients statewide has decreased for 14 days.
The state retains it surge capacity for critical care beds and ventilators.
The state retains the ability to test all Hoosiers who are COVID-19 symptomatic, as well as healthcare workers, essential workers, first responders and others as delineated on the Indiana State Department of Health website.
Health officials have systems in place to contact all individuals who test positive for COVID-19 and complete contact tracing.
Webinars available for more industries
Greater Fort Wayne Inc.'s "Roadmap to a Healthy Reopening" webinar series continues in the coming weeks and has added more presentations for additional industries.
Arts/Cultural/Nonprofit Organizations (Event/Venue Management): Thursday, May 14 at 9 a.m.
General Public (Navigating Public Spaces): Thursday, May 14 at 11 a.m.
Early Childhood Education: Friday, May 22 at 9 a.m.
K-12 Education: Friday, May 22 at 11 a.m.
Higher Education: Wednesday, May 27 at 11 a.m.
Extracurricular Activities/Athletics: Wednesday, May 27 at 1 p.m.
Watch past sessions and register for future webinars at webinar.gfwinc.com.
Back on Track stages
On May 4 Indiana entered Stage 2 of the Back on Track plan. ISDH released the graphic below detailing the capacity at which various businesses can reopen, and when.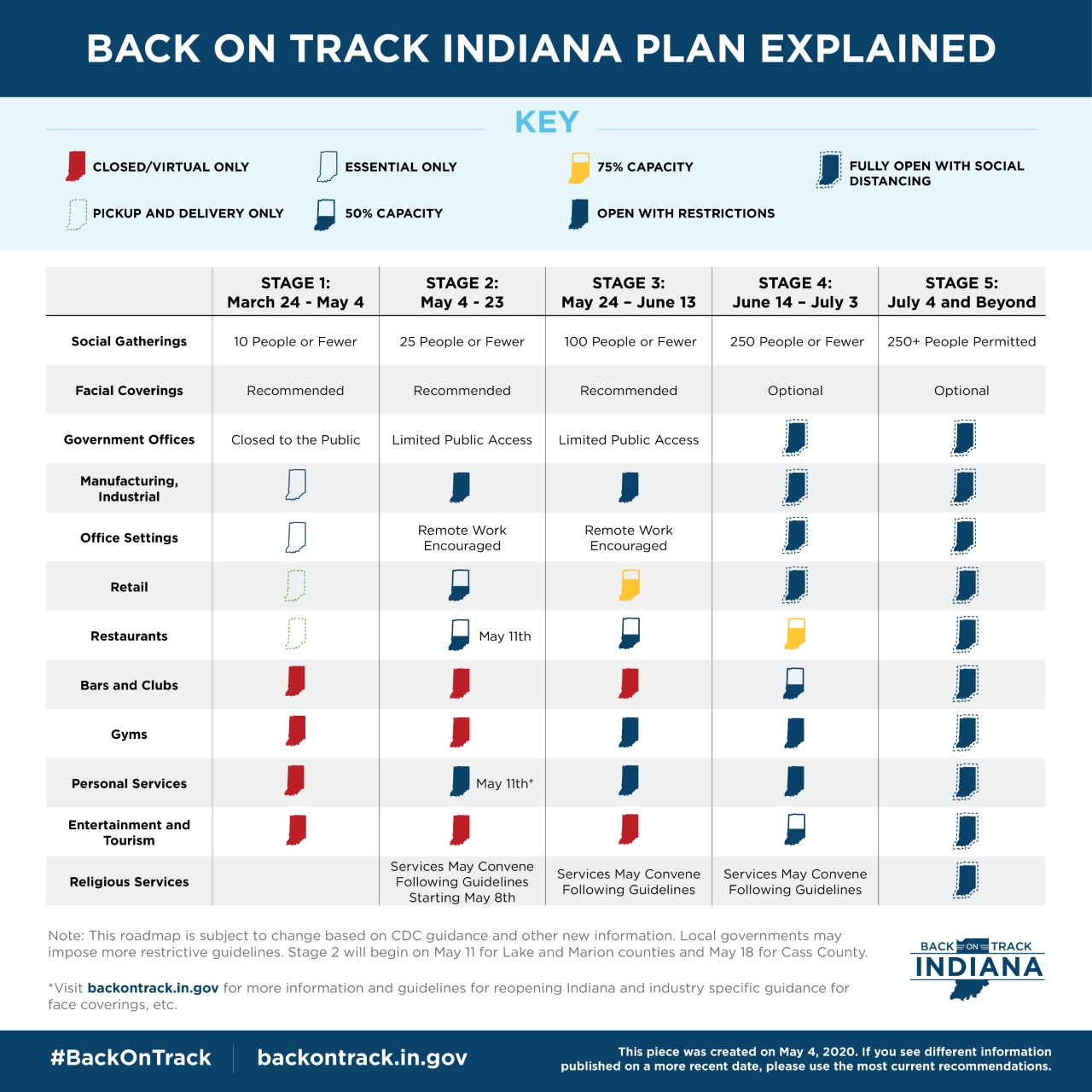 COVID-19 testing
Free COVID-19 testing is available at the Huntington National Guard Armory, 800 Zahn St., for those who are symptomatic or have been in close contact with a confirmed COVID-19 positive patient.
Hours of operation are 7 a.m. to 7 p.m. Monday through Friday.
Insurance is not required, but those who have private health insurance should provide that information.
Testing is by appointment only. To register, visit lhi.care/covidtesting or call (888) 634-1123.
Personal protective equipment
The Indiana Small Business PPE Marketplace is expected to launch next week. It will help ensure access to personal protective equipment for nonprofits and small businesses in order to comply with safe workplace guidance during the state's reopening.
To qualify for the marketplace, an organization must:
Be a business or nonprofit organization registered to do business in Indiana with the Indiana Secretary of State.
Employ fewer than 150 associates.
Be identified in the reopening plan as an entity that must use PPE as a condition of operating in order to comply with safe workplace requirements.
The PPE Marketplace serves as an alternate backstop for employers. Businesses and nonprofits should first try to source and procure PPE on their own.
More information can be found at backontrack.in.gov/files/PPE_Marketplace.pdf.
Religious organizations
The Back on Track plan updates guidance and provides recommendations for places of worship as they plan for services and operations during the next stages of Indiana's reopening.
Places of worship are encouraged to conduct as many activities as possible remotely.
For services held in person, places of worship are encouraged to follow the minimum health protocols listed here as well as guidance from Centers for Disease Control and Prevention.