The Huntington County Police Rescue Squad, unlike most rescue squads, has operated the county wide rescue unit as part of the Huntington County Police Department since it was formed in 1972. Former Sheriff LeMoine Drabenstot had the insight to detect the need for rescue extrication in Huntington County and strongly influenced its formation.

The purpose of the rescue squad is to provide specially trained and equipped personnel who can effectively free trapped victims from automobile crashes and industrial, agricultural, and construction accidents. The squad also responds to natural or man-made disasters. All this is done as quickly and effectively as possible.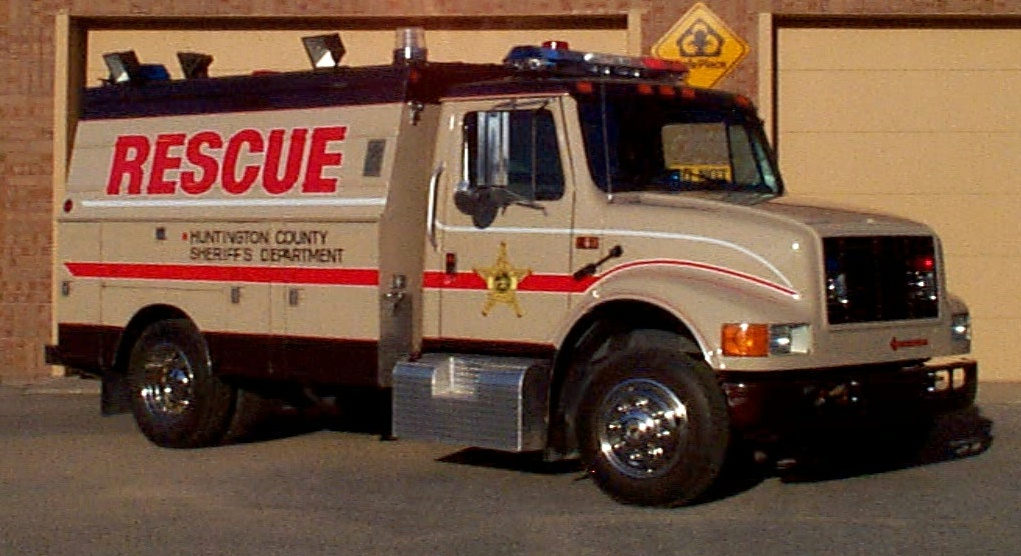 Although the Huntington County Police Department operates the rescue unit, they have not funded it by governmental tax dollars. Over the years, generous donations from service groups, businesses and private individuals have supported the rescue unit. They see and understand the need for rescue services that we provide. The Huntington County Police Rescue Squad consists of ten dedicated volunteers who give their time and talent to help the citizens of Huntington County, and those individuals who might be traveling through it.
Our rescue unit has a variety of people that have been trained in various levels of medical training. These levels range from EMT to Paramedic and Nurse. Most of the squad members are Reserve Police Officers with the Huntington County Police Reserve. The remainder of the personnel are volunteer firefighters from surrounding departments in the county. We have trained all of our personnel in the use of Hurst "Jaws of Life" rescue tools. Hurst is the tool we chose because of its dependability and durability.

When available, we send members of the unit to special technical training schools. They design these schools to update and train our members on the newest techniques and equipment available to departments. These members bring back the information and techniques that they learn to our department for evaluation and use by the other members our rescue unit. Several of our members have been involved with the rescue unit since its inception and have passed on years of experience to new members.
Our squad trains monthly at a local auto salvage yard which donates a variety of vehicles for us to use. We use these vehicles to hone our skills and to practice new techniques, which we have either seen, heard or read about in extrication magazines. We also have members that are trained in confined space rescue and rope rescue. The individuals that make up the rescue squad are all civilian personnel that have full time employment outside the department. With all members being "ON CALL" twenty-four hours a day, seven days a week, some employers are unable to let their people go when the pager sounds off. On average, we have about 3-4 members available to respond during normal daytime working hours.

Our equipment consists of the basic hand tools which are supplemented by Hurst "Jaws of Life" rescue equipment. Both electric and gasoline power units power our Hurst tools to provide hydraulic power to our spreaders, cutters and rams. We have also equipped our truck with air bags, reciprocating saws, chains, come-a-longs, and a generator to provide power for our electric tools and lights. Additional equipment includes rope rescue gear to include 200' ropes, harnesses, locking rings and straps. all the necessary equipment to execute a successful rope rescue.

All emergencies received are dispatched by the Huntington County Police Department. When we are dispatched, EMS, first responders, and fire departments for the area in which the incident occurs are dispatched also. Since we have no fire fighting capabilities on our truck, it is imperative that the fire departments respond. Currently, there are two fire departments in the county that are equipped with "basic" extrication equipment. However, we are the primary response unit in Huntington County and we are dispatched to the scene of all emergencies involving an extrication.
On the average, we are called upon 3-4 time a month. This is largely due to the highways and interstate that pass through our county. The service that we provide is very important to Huntington County. We have helped save many lives with our services since this unit was formed and we are dedicated to continue to provide this service to Huntington County.